Do you know Google uses approximately 200 factors in its algorithm to rank websites? In this modern era, the majority of businesses are investing in SEO to rank higher on search engines to get more traffic and sales. Still, some businesses hesitate to invest in SEO as they are unaware of top SEO stats and facts.
That's why we decided to create this post to share the top 35 SEO stats and facts. In this post, Upreports – a leading digital marketing agency in India – will share the list of the top 35 stats and facts you need to know!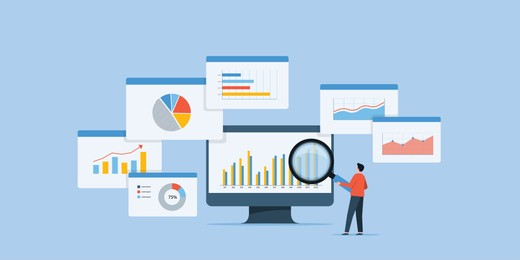 Top SEO stats and facts for 2023
Below are the top SEO stats and facts for 2023 strategy creation:
Organic searches generate 53% of the website's traffic.
E-commerce websites get 33% of traffic from organic searches.
Almost 81% of product searches are done online.
Approximately 94% of users focus on organic results than paid results.
Over 74% of marketers now use creative assets, such as images or videos, in their content.
73% of marketers have turned to YouTube as an important part of their SEO strategy in 2023.
Internal links are becoming more important.
34% of marketers will spend the majority of their 2023 budget on video content, whereas only 10% of marketers will spend the majority of their budget on blog content.
Google is 57% more likely to rewrite title tags that are too long
The purpose of 90% of B2B product research is to choose which products to buy.
The first five organic results get 67.6% of clicks on the first page of search engine results.
93% of buyers read online reviews before buying a service or product.
Over 50% of Internet users find a new product or company as a result of their search.
Websites ranked on Google's first page get an average of 39% clickthrough rate on mobile, and 34.6% on desktop.
Only 25% of search engine users consult the second page of results.
At least 45% of Enterprise-level businesses have an SEO budget of $20,000 or more per month.
Several studies show because of inbound marketing techniques, 61% of marketers say it is critical to improving their brand's organic presence and SEO.
For 59% of B2B marketers, the most significant factor driving lead generation growth is improved SEO techniques.
Among 70% of marketers consider SEO more effective than PPC campaigns.
Several searches show that SEO leads have approximately a 14.6% much closer rate than outbound advertising techniques have 1.7%.
69% of the time users search using at least four words.
When generic terms are used to make long-tail keyword searches, users click through 3-5% more often than the average click-through rate.
50% of visitors will select the branded result If a particular brand appears more than once on search engine pages.
Relevant content is the best SEO tool available for 72% of marketers.
51% of companies keeping older content updated while doing website SEO.
According to Google, 45% of Millennials use voice search while shopping.
According to 36% of SEO experts, headlines and title tags are the most important factor for SEO.
On the internet, 66% of pages lack backlinks.
26% of pages on the internet have no more than three backlinks, which is very bad.
Up to 106% consider republishing updated blog posts to increase organic traffic.
Smartphone users have social media accounts for 2/3 of all time spent online and are responsible for 54% of website traffic.
According to Google, 87% of smartphone owners use a search engine every day.
Google search stats show, 51% of smartphone users admit that they find new products and companies through smartphone searches.
Corporate websites get 97% more backlinks if there's resourceful content featured in a blog.
65% of Consumers between the ages of 25-49 use voice-enabled devices every day.
SEO statistics and facts: Endnote
We hope that the above post will help you learn about the top SEO stats and facts. Always check online reviews before hiring an SEO service provider for your business.
Have queries to ask? Drop them in the comments or email us at hello@upreports.com to get a quick reply from our team of SEO experts.
Also, read our recent blog posts:
How to Increase organic traffic fast
How to do website SEO step by step guide
Best SEO Traffic Hacks For Startups
16 On-page SEO guide to Rank Higher on Google
SEO FAQs: Meaning, Cost, Timeline, Results, and More
Check out our most loved digital marketing services:
Local & global SEO services in India
Social media marketing services in India
Brand building services in India
Online reputation management services in India