More than 70% of Google's visitors don't pass the 1st page. Do you know what websites ranking on the first page get right every time?
It's off page SEO.
Top ranking websites deploy killer off page SEO techniques and reap the benefits for a really long time.
Today, Upreports will tell you everything you need to know about off-page SEO to win more traffic, sales, leads, and ranking. Let's break it down to:
What is off page SEO?
What's the difference between off page and on page?
Why does off page SEO matter?
How can you do off-Page SEO using best practices and tips?
What's off page SEO?
Off page SEO refers to marketing and promotional techniques used to create awareness about your business, build backlinks, and improve site authority. Everything in off page SEO happens 'outside' your website. When we say "outside your website", it means "on other sites".
Off page SEO improves search visibility and ranking of your website which in turn increases relevant traffic to your website. Off page SEO is critical for building backlinks which plays a crucial role in achieving higher ranking on Google.
On page SEO vs off page SEO
On page SEO and off page SEO are two sides of the SEO coin. Let's understand them at a deeper level.
On-page optimization is done on your website (on-your-page = on-page). It's the first thing you should do when creating a new page. It encompasses everything that's implemented on your page to improve its rankings in search results for related queries.
Off-page optimization is what you do on other sites (off-your-page = off-page) to attract visitors. It encompasses link building, referral marketing, blogging, social media, community engagement, and tons of other things.

Why does off-page SEO matter?
A search engine's goal is to return the best results for a specific query. But how does search engines decide who deserves to be on the first page? Let's answer this with an example:
You are new to the college and you come to know that a red-haired girl is very popular. How do you come to that conclusion? Because you heard a lot of students talking about her. This piece of information helps you decide that she must be something.
Search engines work on the same logic. When a lot of websites refer to a particular website, search engines use that information to determine 'popularity'. If your site is popular, then, it must be trustworthy, authentic, relevant, and hence deserves a better ranking.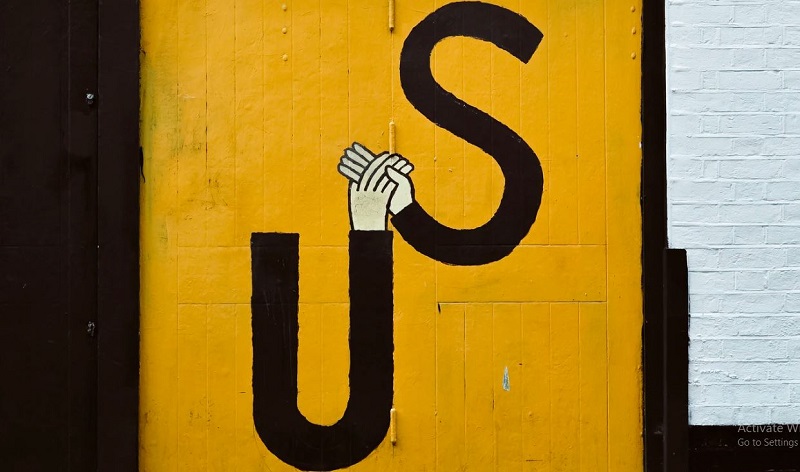 This is why off page SEO techniques matter a lot!
If two websites use similar on-page SEO strategies, but one has more backlinks and referrals than the other, then, it is a no-brainer which one will zoom ahead.
Now that you have understood what's off page SEO & why it is important, let's look at the best off page SEO techniques out there.
SEO is complex & time consuming but not expensive. Discover the SEO cost in US.UK & India in 2020!

Off page SEO techniques & strategies
Building backlinks is the heart of off-page SEO. Every link that you receive acts as an endorsement from another source that your website is gold. Effective off-page SEO techniques focus on building more and more backlinks. Let's look at various ways to get backlinks to your site.
Off page SEO with guest contributions
Guest contributions means pushing content with backlinks to your website from a third party website. This offpage SEO technique has been milked a lot in the past 5 years but it still creates value.
To contribute guest posts, you need to first create UNIQUE content that provides genuine, helpful and relevant information to your target audience. Done that? Identify the sites related to your industry that are a perfect fit for this content. Reach out to them through email and communicate how it will benefit them.
A lot of websites are open to guest contributions. Find these sites using below search operators:
Relevant keyword + "write for us"
Relevant keyword + "become a contributor".
Example: If you sell gardening products, you have to search like, Gardening + "write for us".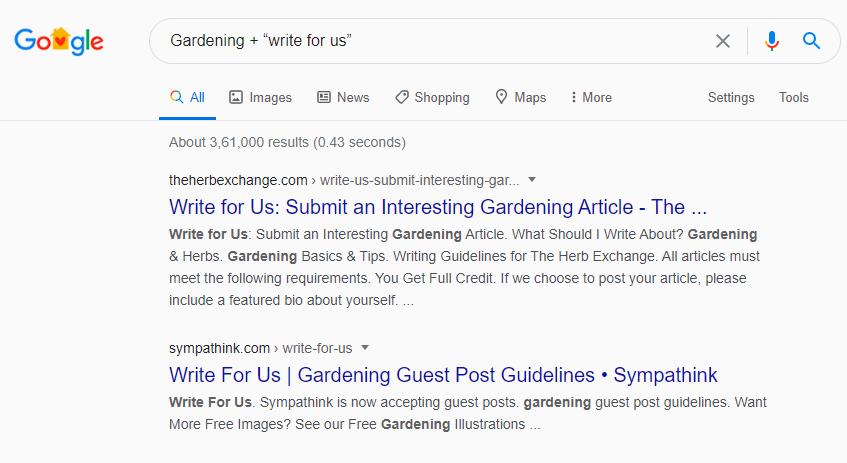 Backlinks through commenting
People nowadays may not read the entire blog, but a lot of them check the comments to see what other people think about it. A clever or informative comment will always get attention and there is a fair chance that people will click on the link provided in it. Even if they don't and your comment with the link goes live, you will get a backlink.
Blog comments are one of the easiest ways to get backlinks for your website and even drive traffic to your website. Therefore, add commenting on blogs to your off page SEO strategy. While the success rate of a comment with a link getting published is less than 20%, it is worth the time and effort.
Go Social for off page SEO
People are spending a lot of time surfing social platforms and hence it makes perfect sense to leverage them to increase the reach of your content and build site authority. From creating social profiles and building their authority to participating in social communities to share links, there are many ways to channel social media to create SEO mileage. Here's how to get started with this off page SEO technique:
As soon as you publish a new web page, blog or video, share it on all your social pages. Join relevant Facebook and LinkedIn groups to further improve its visibility. A lot of social platforms also give do-follow links that help with ranking!
SEO is tricky and time consuming. Consult top SEO agency before kickstarting work
Distribute your content for SEO mileage
When we say distribute or share your content on various platforms, it is not just limited to popular platforms. There are many content sharing platforms you might not be aware of but millions across the world use them to find content. Research and find relevant platforms to upload your content.
For example, upload case studies and business documents to doc sharing sites like Scribd, Academia, and SlideShare. Create podcasts & videos to upload them to SoundCloud, Podbean, YouTube, Vimeo, and Dailymotion. Submitting content to a vast range of channels will bring opportunities to build links.
Short on time? Check out our video guide on SEO for business!
Reach out to authority bloggers
There are bloggers in every niche with strong readership and strong site authority. They are viewed as experts within their niche and this is also the reason why people trust them. Leverage their authority to increase your own. Making them part of your referral program, collaborating for content, and engaging them for paid content will greatly help in increasing backlinks as well as traffic.
Make sure you research and partner up with the right bloggers. Because celebrity bloggers are pretty expensive, look to find smaller, lower-cost bloggers interested in working with your brand.
Grow network to grow off page SEO
Focus on building quality relationships with industry site owners, thought leaders, and content creators. Start by featuring them in your content. Keep in touch through social media and create value by engaging through comments. Twitter and LinkedIn are great platforms to do this.
If networking is done consistently and honestly, your connections will definitely reciprocate and help you move up the ladder of rankings by sharing your content or mentioning your brand name in their content. Precious backlinks can also be earned through this off page SEO technique!
Participate in online discussions
Q&A & community sites such as Quora and Reddit provide people with a lot of actionable information and are hugely popular. This is why millions of people turn to these sites to get authentic answers to their questions. This is the reason why engaging on such platforms should be part of your off page SEO strategy.
Get active on all the relevant community sites and contribute through valuable answers. While doing so, mention your business and expertise passively. If a particular blog or resource covers the same or similar query, then, provide a link to that blog. This can bring you a lot of organic & referral traffic.
Learn how we made a Chinese LED manufacturer a global brand through SEO

Leverage the power of business listings
Another simple way to increase site authority and acquire more link value is to add your business to local business listings and directories such as Google My Business, Yelp, and Yellow Pages. Make sure that business details like your name, address, and phone number are accurate and consistent across all platforms.
A lot of business listing platforms give the option of embedding multiple links and the same can help in creating SEO value for your website. Long story short, business listings are a must-have technique for your off page SEO plan.
Fix broken links
Broken link building is a less known off page SEO technique to earn the high quality backlinks. The trick is pretty simple: Identify the relevant websites and conduct a backlink analysis to find broken links. Done? Contact the owner of the website with the broken link and humbly recommend replacing it with your resource link with relevant content. If your content is relevant and of high-quality, they would be happy to give you a backlink.
Create and distribute infographics
According to Neil Patel, infographics generate 37.5% more backlinks than a typical blog post. The reason being visual content attracts more eyeballs than plain text. Create compelling infographics that create value for your target audience and share them widely online.
Creating infographics is a wonderful way of link building since it's focused on asset creation and doesn't require you to ask people for links. Using tools like Canva, it is really easy to create infographics. Give it a try!
Social content is as important as infographics. Check out how to master Instagram content

This is it!
These are 10 simple off-page SEO strategies you can use to get your website on the first page of Google.
Final thoughts on off page SEO
While off page SEO is highly critical for achieving ranking for diverse keywords, little can be achieved without correct on-page SEO efforts. Content also plays a huge role in modern SEO and it should also be on your growth radar. This is the reason why businesses onboard talented content and SEO experts to manage their digital presence.
We, at Upreports, are committed to helping brands, big or small, reach their maximum potential. Email us at hello@upreports.com to discuss your SEO goals with an experienced team of marketing managers. 
Follow Upreports on Slideshare to discover case studies, growth guides, and DIY content.
Learn about our most popular digital marketing services:
Social media marketing services

Reputation management services