All of us have come across internet trolls. For the few lucky ones who haven't, they are the nastiest beings in the web realm who can be pretty hard to deal with. To help you fight online trolls when the time comes, we came up with a creative series of graphics.
Go through our series of graphics on online trolls to learn:
Who are online trolls?
What kind of trolls exist out there?
How to identify online trolls?
How to fight internet trolls?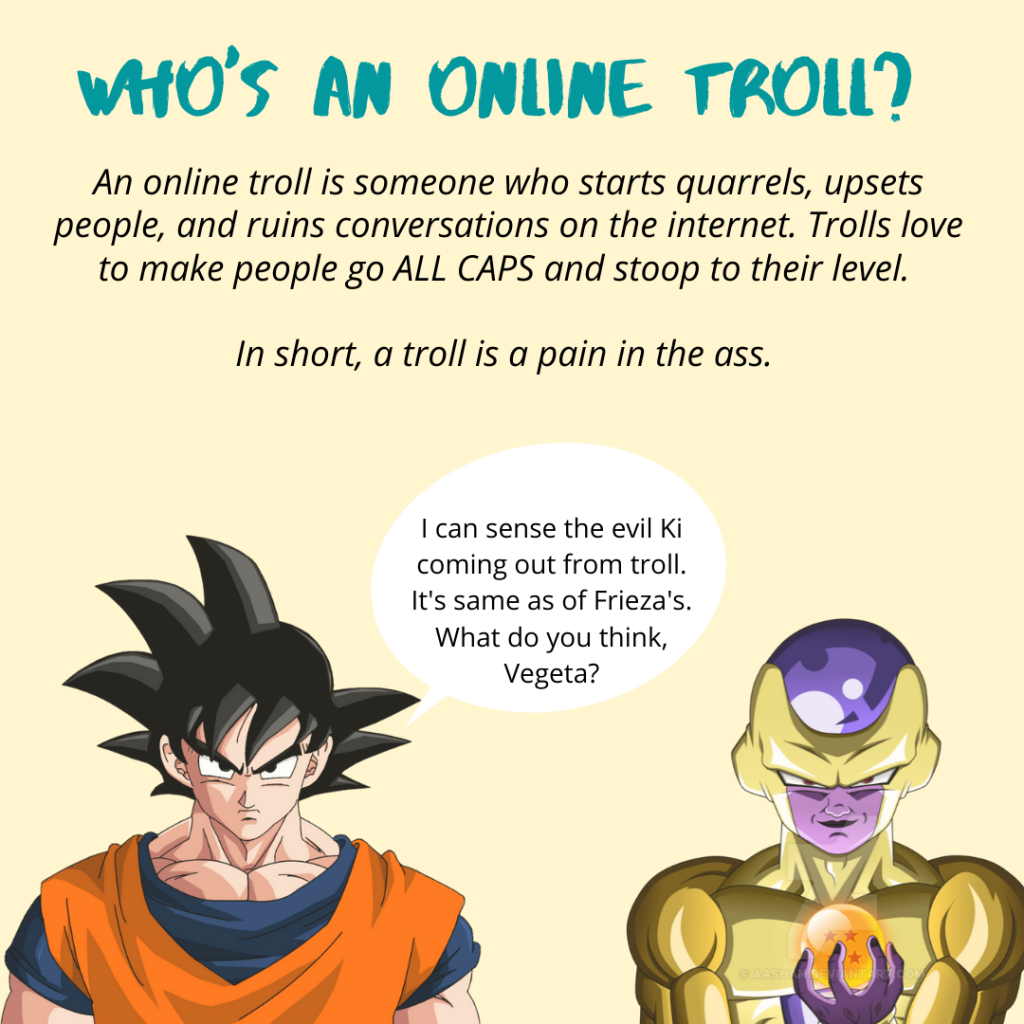 Above DBZ inspired artwork captures the essence of understanding and fighting online trolls.
Feel like reading more? Go on and read more details below!
Who are internet trolls?
Online trolls are individuals who love to make people lose their temper just for fun or money.
Trolls thrive on all platforms that promise some degree of anonymity. Community forums, Twitter, and comments sections are popular hotspots of internet trolls.
What online trolls love to do?
Internet trolls love to leave off-topic comments, boast about their beliefs, target specific people, and most importantly disrupt conversations by adding contentious comments.
Trolls love to get a reaction from people and derive joy from making others react the way they want.
Types of internet trolls
Since different types of trolls can be found lurking almost every corner of the internet, it becomes more important to know which type of internet trolls you have encountered.
Following are two major types of web trolls on the internet:
Just for fun trolls: As the name suggests, just-for-fun trolls attack for laughs and ego-boost. Most of them are harmless and usually unpaid. Internet trolls that fall under this category are known for mocking others, pushing conspiracy theories, and practicing dry humor.
Paid trolls: Paid trolls are ones that are hired to disrupt communities and dialogue. Hired by businesses and political parties, these internet trolls spread hate, disrupt communities, engage in self promotion, and create confusion. Paid trolls are infamous for pushing political propaganda as well.
Is your business being targeted by online trolls? Fight back with business reputation recovery tips:
Identifying an online troll
Telling between trolls doing their job and someone who genuinely wants to engage in dialogue sometimes can become difficult. Following points can help you identify the internet troll in no time:
Paid trolls are consistent with their hate, propaganda, and messaging. Unlike real people, they don't believe in ending the debate. If you ever notice that someone is continuously being disruptive without adding value, get an idea that it is a paid troll.
Trolls don't have any real photos, interests, and connections. They reveal as little personal information as possible and stay in the shadows while doing their work. Checking their profile bio/page will quickly tell you the nature of trolls in your vicinity.
Just-for-fun trolls can be easily identified since they add zero value to the on-going discussion. Their expertise lies in leaving comments that will dilute the discussion.
How to deal with internet trolls?
Dealing with internet trolls is not hard. Just for fun trolls can simply be ignored. They tend to vanish when not given any attention. It is recommended to make light of their comments to diffuse the tension. Also, block them if their texts & comments trouble you a lot.
Report the paid trolls to social media communities for violating policies. Paid trolls also get offended when you fight back with facts and data. Besides, you can point them out for their mistakes and put a spotlight on the mess created by them.
Tagging the government authorities can also help you in tackling the hate created by paid trolls.
Endnote on online trolls
Above is everything you need to know about internet trolls. By following our quick guide, you can spot trolls and take the right action. In modern times, governments maintain troll armies to disrupt voices emerging against them on the internet. This makes it even more important to understand trolls and fight them.
Want to use our creative work in your article on trolls or something similar? Give us due credit by linking back to this blog. We will appreciate it very much!
Need help with content creation? Send your content goals at hello@upreports.com.
Learn about our most popular digital marketing services:
Social media marketing services

Reputation management services