We have a feeling that you've already researched a lot about "how much does SEO services cost?" We are also 99.99% sure that you have not yet got the answer you are looking for! We SO wish we could tell you that you have to pay this much for SEO but sadly, it's more complicated than that.
It is indeed hard to estimate SEO pricing in 2020, whether you are in the US, UK or in India. That said, we will list out the facts and insights so that you are not taken for a ride.
Before we get to the SEO services cost part, let's understand:
Why is it hard to estimate SEO costs?
To put it simply, because SEO is not a commodity, it's a service. There is no "one size fits all" SEO program. Each business has unique goals and requires unique SEO efforts to meet them. Hence, the SEO cost depends on what comes together to make your 'monthly SEO deliverables'.
By monthly SEO deliverables, we mean a quick detail of all the SEO related work that will be done every month for you. Here's how monthly SEO deliverables for a small business will look like:
2 blogs per month
20 backlinks
Management of 3 social media pages
Digital media creation (2 per month)
5 community and forum engagements
Sharing in groups
5 business listings
Now, bigger the above list will grow, bigger will be your budget.
There are many factors that come together to determine the amount you pay for SEO services in India, USA, UK or any other country every month.
Let's list the most critical ones:
Size of your business: A small business with a 10 to 15-page website will typically be on the lower end of the cost spectrum, while an eCommerce store with 500+ products typically will have to plan on a larger budget for SEO services. Small businesses can choose to spend more too if they need quick results though.
Competition in your niche: SEO for a coffee shop in a small suburban town with less competition might shoot the site to the top of local rankings in a small spend. The same tune-up for an identical shop in a major metropolis with the significant competition will require more effort and time.
Existing digital presence: If you're just starting out with a brand-new website with zero domain authority and no rankings to speak of, expect to pay more. Even if your website is technically perfect, an outdated and slow website can outrank you because the older site has a robust and hard-earned back-link profile.
Extent of services you need: Managing more things means you'll have to pay more. Remember the monthly deliverables? Yes, this is exactly that! Expect to spend some extra pounds if you want your SEO partner to take care of tons of things.
The agency you hire: You'll definitely have to pay more if you hire a premium marketing agency rather than an affordable one. By doing some planned research, you can hire a reputed yet affordable digital marketing & growth agency to win SEO.
Location of your SEO partner: The cost you are going to pay for SEO also depends on the location of the agency you are partnering with. If your SEO agency is located in New York, they are going to charge more because living costs are huge there. If you hire someone from India, well, you can save almost 50% of the money.
Keep all these factors in mind when researching for the right SEO agency or expert for your business. Keeping the above insights in mind will help you get SEO services at reasonable pricing whether you are in the U.K., U.S. or India.
Zero experience in SEO? Our beginner's basics guide is at your rescue!
Let's show you some numbers so that you can get a better idea of SEO pricing in India and abroad.
SEO services costing
Below monthly and hourly pricing estimation is for SEO plans created for small businesses with limited requirements in the USA, India, and UK.
SEO packages in the USA
Most SEO projects in 2020 will cost between $750-$3,000/month based on the scope of the project.
For per hour, expect to pay somewhere between $50 and $100 if you're planning to get quality work done.
SEO prices in INDIA
An experienced SEO company in India normally charges between $500 to $1500 per month.
Expect to pay an hourly rate between $35-70 for quality work.
SEO costing in the UK
You should expect to pay at around £700 – £1000 per month for someone reliable.
You should expect to pay an SEO professional an hourly rate starting at around £60 for an individual and up to £120 for an SEO agency.
The above data must have given you some idea of how much you should budget for SEO services or how much SEO costs.
Want to know-how much Reputation Management or ORM costs. Read our blog on "Real Cost of Reputation Management"
Upreports' SEO prices and packages
Team Upreports is currently handling search visibility for small businesses as well as big brands. Our clients are based in the USA, China, Middle East, Australia, Canada, and India as well. Here are our SEO costing insights:
Upreports' SEO packages start at $500 USD. Currently, we don't offer per-hour pricing for SEO assignments.
Task-based SEO pricing depends on the work in question.
We offer monthly packages uniquely customized to each client's needs and industry.
Transparency in pricing with a comprehensive Deliverables sheet.
Quality SEO services will give measurable results in the short and long run.
Flexibility in packages with the complete scope of customization.
Being the top SEO services provider in India, Upreports helps businesses and entrepreneurs claim top visibility by using a mix of best SEO practices, marketing tools, analytics expertise, and creativity. We offer advanced SEO services that are tailored to the unique nature of your business.
The best part is that we deliver premium quality SEO services at affordable prices!
Now that we have shared the SEO pricing insights, let's look at the pricing models followed by SEO agencies across the world.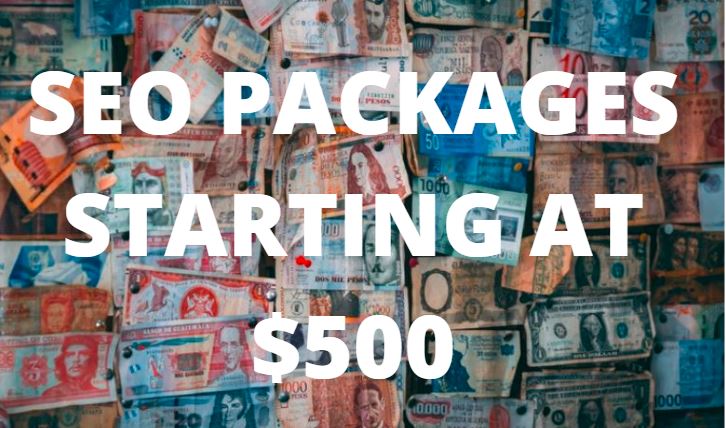 SEO Pricing Models
Task-based SEO pricing: This pricing model allows clients to pay a set fee for specific SEO services. If a client only needs help with on-page SEO and has everything else figured out, then she has to pay just for this service.
In case you are looking for complete outsourcing of all aspects of your search campaigns, then monthly pricing is best for you. This will get you an entire team to take care of your SEO goals. Of course, you will be paying a bigger fee.
Monthly based SEO Pricing: This is perhaps the most popular pricing model in the U.S. and India. In this SEO pricing model, clients pay a monthly fee to an SEO service provider for managing their campaign from end-to-end. It is a long-term partnership. Most companies go for this option when they need to outsource SEO completely.
In comparison to one-time SEO services, a monthly SEO plan streamlines your search engine efforts and positions you for long term victory.
Hourly: Hourly pricing refers to a contract in which the client pays the SEO agency an hourly fee in exchange for their SEO services. It is rarely used in SEO projects since they usually require long term planning. However, monthly budgets are defined by taking into consideration hours dedicated every month over the project.
Lump-sum fee: This model is usually followed by SEO freelancers and rarely by small SEO agencies for cash-strapped clients who cannot afford to spend monthly and want a one-time deal. Business owners who are not familiar with functionings of SEO are often tricked using this model and promised first-page visibility. It won't be wrong to consider the lump sum SEO fee as a red flag!
Understand your business requirements and choose a plan accordingly. It's also important to remember that no matter what plan you choose, SEO takes time. You won't see results overnight.
Things to check before hiring SEO firms
Check Reputation- A reputed SEO company will have positive client feedback and testimonials across the web. Go through them to get to know what other people think of the SEO agency. If there are a lot of negative reviews, think twice before hiring.
Ask for case studies – Ask your to-be SEO company to give you examples of their SEO work including reports and case studies that show an increase in traffic from search engines. In the UK, USA, Australia or India, top-rated SEO companies have detailed case studies to show. Here are case studies from Upreports.
Ask for client references– Asking for client references should be on your checklist. This will help you know if their previous or current clients are happy with their work or not. If the potential SEO partner couldn't even share a couple of references, you have every reason to move on with your research.
Question them thoroughly – Make a list of all the SEO questions to share with shortlisted SEO companies. Schedule a call with the senior SEO experts at the agency to cross-check their expertise. If the answers seem vague and confidence seems lacking, it is time to keep looking!
Don't know enough about SEO to ask questions? Start by learning these SEO terminologies
Use white hat methods- Make sure that your SEO company uses white hat techniques to achieve rankings. Black hat technique may improve your website ranking in a short span of time but it will not last long and will also get your website blacklisted from Google.
Ask for deliverables & reports- What are the exact deliverables of our SEO engagement? Will you provide monthly reports to show progress and work done? Such questions should be part of your SEO questionnaire.
Dodge the cheap trap – If an SEO agency or consultant gives a cheap quote without going through your website, goals, and current performance, be very scared and end the discussion right away! Modern SEO is not dirt cheap and whosoever says otherwise should be distanced immediately.
FAQs about SEO & pricing
Here are some frequently asked questions that business owners often ask SEO experts!
How much should I pay for SEO?
Your SEO budget depends on your business needs and goals. Cost highly depends on factors like competition, location of the service provider, existing status, and other factors documented above. Email us at hello@upreports.com for an exact SEO cost idea!
When will SEO results come up?
Modern SEO takes time. It takes time to research your market and industry. It takes time to build backlinks. It takes time to produce quality content. Google also takes time to recognize the changes in your website and assign the authority it deserves. Be patient, results will show up but definitely not in one month. At least 6 months are obligatory.
Check out this blog to discover 7 more SEO questions that are frequently asked by SEO clients across the world.
Endnote on SEO pricing
In today's competitive world, businesses simply cannot do without digital marketing and SEO. Search engine optimization and marketing increase your digital visibility and generates business mileage in the long run. If you want to position your business for long-term success, you need to partner with the right team of SEO experts and digital marketers.
We – at Upreports – are committed to empowering small businesses and entrepreneurs. Email us at hello@upreports.com to discuss your SEO goals and get a unique SEO plan at an affordable price for your business! We promise marketing-free advice to scale your business in the digital realm!
Learn about our most popular digital marketing services:
Social media marketing services

Reputation management services