Last updated: 8 September 2022
Online reputation risk is a peril that costs credibility and pricy damages brand image to businesses, professionals, and celebrities. According to Deloitte's Global Risk Report, reputation damage affected nearly 88% of executives across the globe. And that's precisely why businesses globally are investing in online reputation management services
Internet spreads information at lightning speed, and the sad part is that negativity spreads faster. It is an unbiased information carrier, and if online reputation management measures are ignored, it may result in reputation loss, cost damages, career ruin, and irreparable loss to personal reputation as well.
Here's an overview of current online reputation management pricing and cost for the year 2022-23!
ORM Pricing of top reputation firms [2022-23]
Loss of reputation costs a fortune to businesses, and the price paid to recover from the damage is nothing less. Big reputation management companies charge between thousands of dollars to tackle a single negative link. The costing has dropped little even in pandemic stricken market.
The cost of forgetting on the Internet does not come handy, especially for small businesses and working professionals. Below are the online reputation management pricing charged by big online reputation recovery & management companies based in the USA and Europe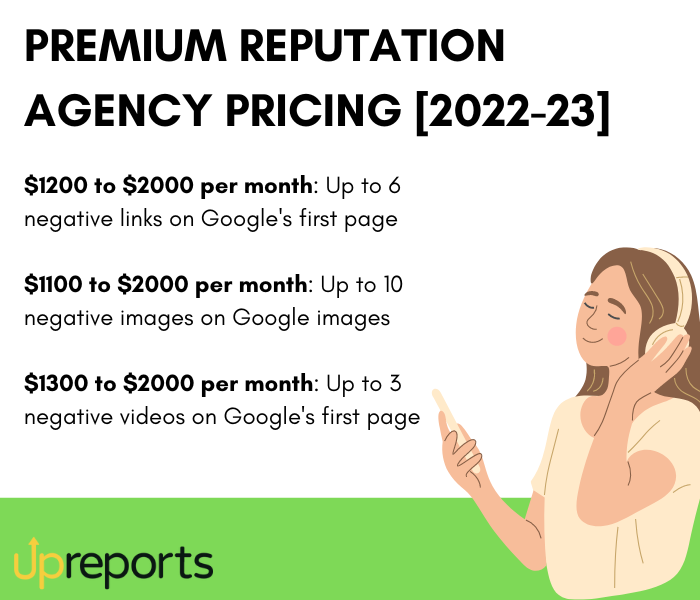 This was an overview of the online reputation management pricing. The bigger the reputation issue, sky-high goes the recovery costs.
As compared to major reputation recovery companies, Upreports Infotech offers affordable reputation management services to businesses and working professionals at comparatively low pricing.
Here is an overview of the ORM pricing insights derived from all the reputation recovery projects we have delivered in the past decade:
The costing of online reputation management services vary from agency to agency. Top ORM companies charge also charge a flat fee for online reputation recovery.
Reputation management price calculation in 2022
There are various factors that come together to determine the cost of online reputation recovery.
If threats are coming from top news and media sites, fighting them off the first page of Google requires a bigger investment.
If they exist on an amateur blog, online reputation management cost will be lesser.
It depends on the number of reputation threats existing:
If 5 negative links are to be removed from the first page of Google, then, cost will be higher.
If there is only one negative link, reputation pricing will be lesser.
It depends on what kind of content you want to create :
Quality content planning and writing will increase the cost.
Content of normal quality, then, costing will be slightly less.
Online reputation pricing also depends on who you hire. A premium agency or ORM expert will charge a premium price.
There are a lot of other factors that come into play to determine online reputation management pricing but above are the ones that will matter the most.
Check out online reputation management case study to learn how Upreports fixed a serious reputation case in less than 4 months.
Most vulnerable groups
Renowned business houses are capable of tackling reputation related threats as their PRs have huge financial budget but even they sometimes fail to handle online reputation threats correctly.
The things are worse for startups, professionals, celebrities, and people from different walks of life since they don't think much of reputation management. Your future career prospects are also influenced by online reputation.
In fact, Forbes clearly stated in an article that 75% HR departments are supposed to check employee credibility online.
To put simply, everyone is vulnerable to online reputation, and threats are very much real & pricey.
Reputation management pricing for businesses
Small and mid-sized businesses spend at least $7000 every year on proactive online reputation management. It is hard to calculate the exact online reputation management cost since efforts dedicated on online reputation recovery depends heavily on the nature of threats.
If threats are coming from top news and media sites, fighting them off first page of Google requires a bigger investment. If they exist on an amateur blog, online reputation management pricing will be lesser.
If being top on Google's search engine is a boon, being there with a bad repute may be toxic for businesses, professionals, entertainers, and entrepreneurs. Only the right online reputation management strategy will be able to speed up recovery and deliver results quickly.
Source of online reputation threats
In 2022, reputation attacks can come from a lot of places. Online reputation threats may appear on:
Discussion boards: Discussion boards are places where anyone can create discussion threads about a business or person. A lot of businesses get reputation damage from industry specific forums.
Search engines: Google is the biggest source of reputation threats since most of us use it to discover information about businesses as well as people.
Media publications: Local news websites are infamous for writing stories about arrests, allegations, and alleged misbehavior. Hence, a lot of personal reputation management threats emerge from such websites. Big media publications like Forbes and Business Insider can also be sources of defaming articles.
Business review platforms: Business review sites like Yelp is notorious for giving people free access to customers who want to vent out. Since little power and control are given to businesses, such review sites are infamous for becoming the source of negative reviews.
Independent blogs: Free blogging sites like WordPress and Medium can also become the source of online reputation threats for professionals. Such blogs achieve ranking on Google pretty easily and can tarnish the image.
Images: Google Images curates content from all over the web and it doesn't leave out websites that are known for hosting personal leaked images of entertainers, performers, models, and celebrities.
Leaked videos: Leaked personal videos often end up on platforms like Dailymotion and eventually reach the top pages of Google. Such videos can do a lot of damage to the personal reputation of individuals and professionals otherwise doing great in their life.
Individuals and organizations fighting bad reputation need modern reputation management strategy and cost-effective reputation management solutions. And that's what we specialize in.
Thankfully, businesses and brands have started taking measures to improve their online reputation, and even working professionals are doing so.
Fight bad online reputation with the best online reputation strategies. Discover best online reputation management tips!
Bad reputation escape plan
Online reputation requires strong business assets, active social profiles, media mentions, and brand representations. Startups, professionals, and small enterprises are not well acquainted with most of these essentials and thus even one unfortunate mention on the internet may lead to big online reputation threats.
An individual or a brand should never leave a thread loose on the internet, it may sooner or later pose a serious threat to your reputation and cost dearly. Therefore, it works best to hire experienced reputation management professionals to fix your reputation problem and get pointers for the future as well!
Google's reputation liability
Google is where the world goes to look for information. The search giant has already stated that it cannot be held accountable for reputation loss since it is only aggregating what already exists on the web. What we need to understand is that it is Google where almost everyone is searching for information, reviews, and even people.
Internet is an agent of change, it is the information reservoir that retains everything. Reputation is hard to earn, but defamation enters through the backdoor. Hence, we must take control of what goes out online about us. Of course, we can't control everything but we surely can keep track and act timely.
Remember, the online reputation management recovery cost or price is huge!
A small tip: No need to spend tens of thousands of dollars on ORM campaign. Get expert advice on your case and request best package
Online Reputation at risk
A threat to your name or business may be termed as reputation risk. It may be due to your negligence, the actions of the people linked to you (partners, suppliers, customers, middlemen, or even family), or a package of both.
Competitors with no ethics spread negativity to gain business mileage. Sometimes, mischievous elements start reputation attacks just for the heck of it. The point is that reputation attacks are real and we have to deal with it.
Stephen Hawking once said, "We all are now connected by the Internet, like neurons in a giant brain". The Internet never forgets. It is an agent of change, and Google especially works like a critic who is always looking for new things to talk about.
These were some critical insights about online reputation management costs. Remember, ORM should not be confused with SEO. The brief comparison below will help you understand both concepts better.
ORM vs SEO – The difference 
Search Engine Optimization enhances a page's visibility to rank it higher on search engines. SEO is used by businesses to improve their search engine visibility. Online Reputation Management on the other is about building and retaining a positive name. The service is usually subscribed by people struggling with bad publicity, media coverage, and reviews.
Online reputation recovery comes at a price and to regain what's lost, this price has to be paid. It is the sole reason behind millions of dollars spent every year on online reputation management services by businesses, entrepreneurs, organizations, politicians, celebrities, and working professionals around the world.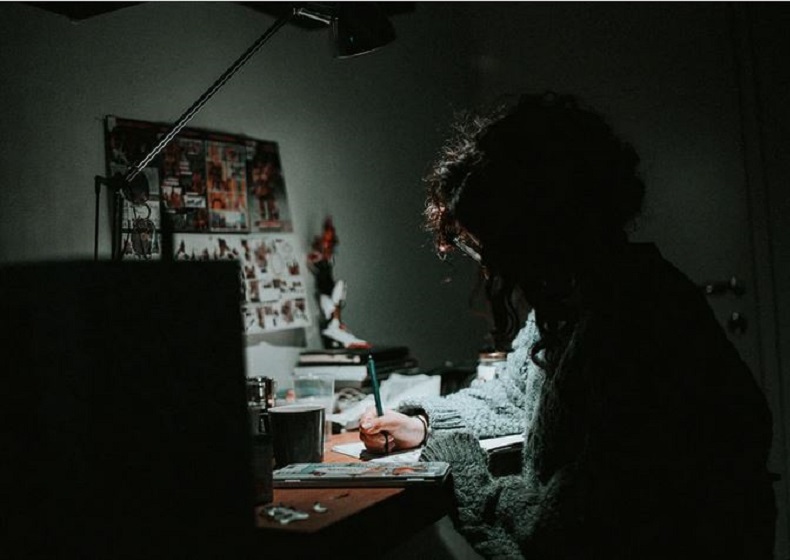 A reputation management company like Upreports basically works to put the spotlight on the good things.
Start online reputation recovery n 2022-23
Online Reputation management plays a critical role in maintaining a company's identity. It may incur some cost but will remove the fencing which stands between your business and its growth.
At Upreports Infotech, we aim to recover, track, and strengthen your reputation without drilling a hole in your pocket.  Email us at hello@upreports.com to discuss your reputation case and request the best ORM package with top online reputation management professionals of the world.
Want to recover from bad online reputation on your own? Here is the online reputation management strategy for the fastest recovery.
Want to read more about online reputation? Check out this reputation introduction by Neil
Learn about our most popular digital marketing services:
Social media marketing services in India
Reputation management services in India
Online marketing services in India