Without advanced SEO tools and Google search operators, it is almost impossible to do modern digital marketing. They give marketers and business owners keen insight into the endless SEO opportunities and audit points to gain strategic advantage and implement action plans.
Our list of Google operators and SEO tools will help you:
Undertake competitor analysis
Research keywords
Check site performance
Confirm site indexing and ranking
Gather strategic insights
Without further ado, Upreports presents the best Google search operators and SEO tools of 2020 to help you market better and beyond!
SEO tools
UberSuggest
When it comes to exploring keywords, this free tool is becoming the go-to tool for people after Keywords Everywhere became paid. Ubersuggest is a free SEO tool that specializes in generating keyword ideas. It was recently acquired by entrepreneur Neil Patel, who has since expanded the feature set significantly in a short time.
Keywords Everywhere
Keywords Everywhere is a browser add-on for Firefox and Chrome which works in more or less similar way as Ubersuggest. With its keywords finding ability, it helps you know in addition the CPC, organic & paid competition. Its status changed from FREE to PAID recently.
MozBar
MozBar is a Chrome and Firefox supported extension which aids in providing valuable metrics about a website. It also scans its link profile to make it more optimal for SEO purposes. While this SEO tool is free, it also has a premium version which brings features like page optimization and keyword difficulty score.
Keyworddit
Keyworddit tool is a free tool to extract keywords from Reddit. Using this tool SEO professionals can pulp out the relevant keywords from a Subreddit which can be your niche related. It's really helpful in scruitning the relevant keywords on a famous subreddit.
Yoast SEO
Yoast SEO is a WordPress plugin which helps you optimize pages and blogs for critical ranking factors. The free SEO tool will make your site more SEO friendly and is perfect for website owners who have just started their SEO journey. The plugin also has a premium version which brings more features.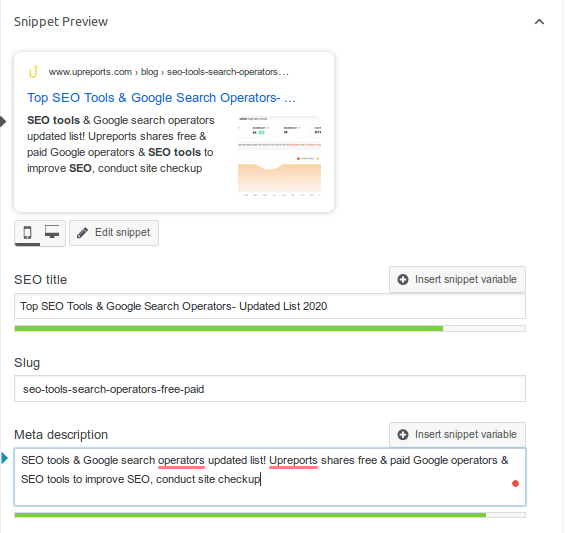 Similarweb

Similarweb is a free SEO tool which helps website owners in competitor analysis. It offers insights related to website traffic, referral sources, and keyword analysis. It is perfect to get a generic performance idea of big competitors with strong online presence.
JSON-LD Schema Generator
This SEO tool helps generate a code that helps search engines understand your website's relevance to a search query. By implementing SCHEMA code in your website, you can enhance its visibility in the SERPs. JSON is added to the header section of the page.
Ahrefs
Ahrefs is a paid SEO tool for researching backlinks, preparing audit report, backlink analysis, competitor analysis and accomplishing a lot more. With the help of its updated algorithms, businesses can generate latest data and gather insights to make strategic tweaks in SEO strategy.
Grammarly
Not really a SEO tool, Grammarly helps you write without any errors and check grammatical mistakes. The free tool (with premium version available) will help you create flawless content, which will subsequently improve your SEO prospects.
Spyfu tool
Originally known as Google Spy, Spyfu shows the keywords that websites spend on Google Adwords. In addition, Spyfu SEO tool helps you find out the exact keywords that websites are showing up for within search results.
Google Analytics
Analytics is a service offered by Google which helps you track your website's performance. It helps in recording the website traffic and helps you formulate digital marketing plan. Google Analytics was initiated in 2005 and the best thing about this SEO tool is that it's free of cost.
Strengthen your website's SEO by teaming up with the leading Growth Marketing Company!
Google Search Console
Google Search Console is a rebranded version of Google Webmasters. It is a service by Google which helps you check your website' indexing status, performance, and gather insights that will help you optimize it further for SEO. It's free to use for everyone!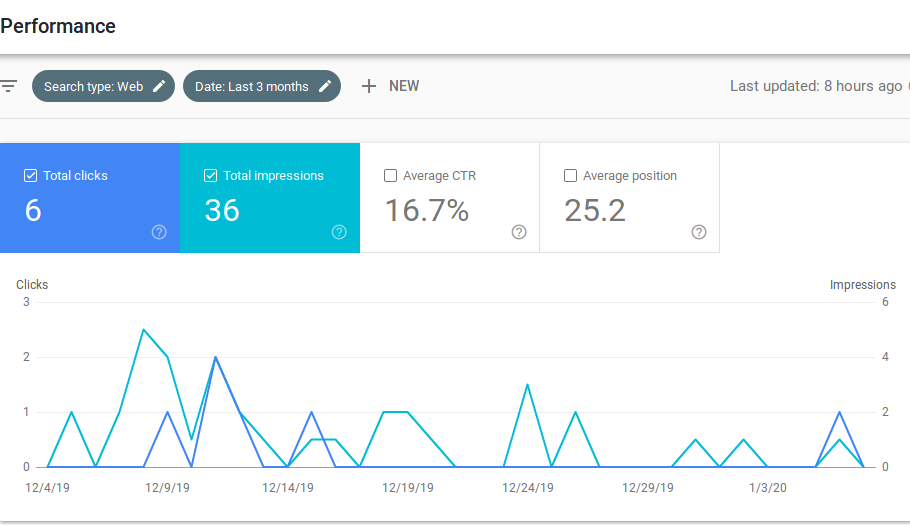 Screaming frog
Screaming frog is a desktop app created for crawling websites' links, images, CSS, scripts and apps from an SEO point of view. This is compatible with Windows and Mac both and helps entrepreneurs with the access of free 500 URLs. If you want to crawl more, you have to buy the full version.
Mobile Friendly is Google' free SEO tool which helps in identifying your website' mobile usability. By checking your website's URL in the tester tool, you can find out whether your website' pages are mobile optimised or they need further optimisation.
Above SEO tools will definitely help improve website's rank on Google. These SEO tools are helping internet marketing professionals in 2020 to create optimal strategies and SEO plans.
This was all about the trending SEO tools. Now it's time to move on to Google Search Operators list!
Google Search Operators
Site:
Example: site:Upreports.com
By using this Google search operator, you can quickly check if your indexed pages match up with your own database or not. By doing this, your indexed pages will be displayed on the SERPs. If most of them didn't appear, you will have to check Search Console and trigger indexing request.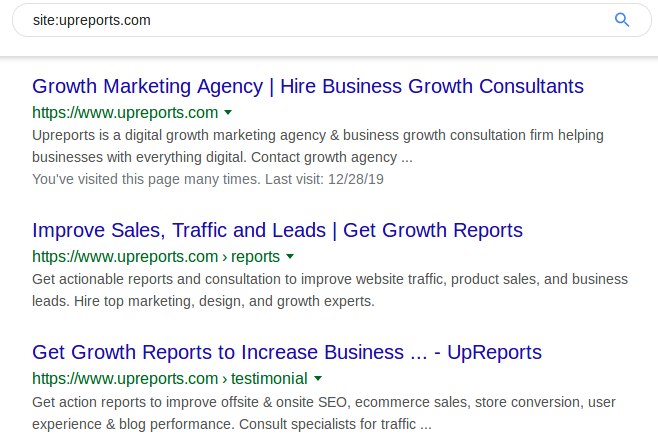 Inurl:
Example: Inurl:
This search operator helps in finding potential direct competitors. The InURL search can be used to find specific keywords within a URL so that in the search results, the only results displayed are web pages which have the queried keyword in their URL.
Filetype:
"Keyword" filetype:pdf
Example: marketing agency filetype:pdf
It is useful when looking for research and case studies, which are often in PDF or other document file formats, rather than HTML. Therefore, if you are looking for something specific, especially a file format, this Google Operator will come in handy for sure.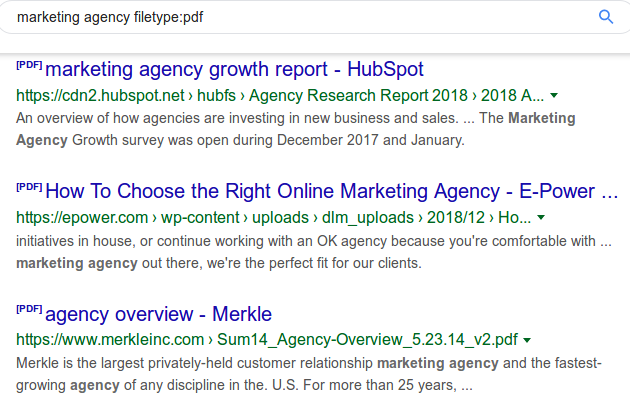 Related:
Example: Related:ubersuggest.com
Related: is a Google search operator that helps you find sites related to a specified URL. For example, if you are trying to find health and fitness blogs for prenatal care, this search operator will figure out the best related URLs for your search query.
Take a look at our video guide to get an in-depth insight on Search Engine Optimization for businesses!
"your keyword" + guest-posts
Trying to find blogs that might be accepting guest posts for paid or even for free? This Google search operator will help you find the available updated data of guest posting sites where you can post your links to gain ranking.
"topic/niche/keyword" inurl:write-for-us intext:dofollow
Dofollow links are an HTML attribute that is used to allow search bots to follow the links. If a webmaster is link to your site with dofollow link, search engine bots and people can follow you. If you want to get dofollow links for your website/blog, try this search operator.
Applying these search codes in your Google search will aid your website in ranking better on search engines. If proper utilization of Google search operators and SEO tools is performed, it can help your website with a boost of organic traffic and digital customer walkin.
Strengthen your SEO game by teaming up with Team Upreports. Learn more about the growth marketing & SEO by sending an email to hello@upreports.com DM in case of queries!