Digital marketing for medical professionals has availed the opportunities to showcase their expertise to the digital world and engage more patients in their medical clinics. Additionally, according to a report, the global healthcare industry is predicted to grow annually at a growth rate of 8.1% from 2019 to 2026 and reach 14.8 trillion by 2026.
While thousands of physicians across the globe are trying to take advantage of online marketing, still a lot of them don't know how to market their healthcare organizations online to make their medical profession profitable businesses. In this post, Upreports will share online marketing tips for medical professionals to help them engage more patients. Read on to discover detailed information on the critical aspects of online marketing for medical professionals. 
Online marketing tips for medical professionals:
Below are the top online marketing tips that are helping medical professionals and physicians to attract more patients.
Create a mobile-friendly website
It is the core asset of online marketing in the healthcare industry. If your medical website is not properly optimized for mobile use, you may leave a lot of money on the table. Hence below are the tips to consider while creating a mobile-friendly healthcare website:
Make it responsive
Keep your font size large
Aim for fast load speed
Optimize CTA size and location
Invest in SEO
If you are a medical professional in the New York region, it's important that your website ranks whenever someone in that region searches 'medical professional in New York, a doctor in New York, and 'physician near me.' This is where SEO comes in. 
Implementing a powerful SEO strategy will uplift your medical website and business resources (like videos, PDFs, images, etc.) to the top of search engine results. Sadly, search engine algorithms keep changing little by little every day. That's why it is essential to invest in modern SEO strategies and practices.  
To win SEO in the medical industry, you need to master:
Use social media
Hundred of medical professionals and physicians faced back coverage, criticism, and negativity all over the internet for failing to handle the COVID-19 situation. Luckily, social media is one of the most powerful mediums to regain your online reputation while creating positive awareness about your healthcare clinic. Since IG and Facebook are the two most active social media platforms, a lot of medical professionals have started marketing their treatment programs on these social media handles.
Here are some social media marketing tips that are greatly benefiting medical professionals:
Share informational content related to health
Share unique images and videos of your practice.
Share your success stories and video testimonials to build trust
Offer discounted pricing for online registration
Get listed on business directories
Healthline, Vitals, and Locateadoc.com are the top business directories widely used by patients to discover the top healthcare clinics and medical professionals across the globe. Therefore, you must make your presence on such platforms.
Register on the most popular healthcare discovery platform in your region and list your best practices on it. Pay special attention to:
Treatment description
Expertise
Locality
Pricing
Contact details
Make sure your listings are optimized correctly so that they rank on an internal search of listing websites as well!
Create a visual content
Being one of the top sites for sharing content with online communities, it makes perfect sense to add this tip to the list of marketing tips for medical professionals.  Many medical professionals deliver informative guides on public health issues as a way to build their online following. 

Don't forget to track your competitor's YouTube channel and create content on which they are getting the most engagement. You can also create informative videos explaining the benefits of treatments or home remedies for various medical issues to get the most out of this online platform. Make sure you circulate your videos on your social media handle to maximize views.
Ask for reviews
Online market survey has already proved that about 65% of people read reviews before making a decision online. So getting positive reviews as a medical professional should be at top of your priority list. Trustpilot, Yelp, and Google My Business are the top review publishing sites. Create a free profile on these sites and get reviews about your medical profession from happy patients.
Circulating positive reviews will help you to create positive awareness about your healthcare clinic and will also help you engage more patients. According to Upreports, it is one of the easiest ways to motivate others to visit your medical clinic.
Learn how much digital marketing costs to invest smarter
Get blogging
Creating a helpful medical guide is the easiest way to show expertise and attract more patients. Since you belong to a medical background it will not be difficult for you to create blogs on health and fitness topics. But you need to create informational blogs, guides, and media to impress your existing and future patients.
Blogging also improves the ranking of the website if done in the right manner. Start by creating blogs related to health describing tips and fitness exercises to cure various health issues.
Submitting your blogging work to other healthcare websites (guest post sites) will also increase the visibility of your website. From the SEO point of view, it is the most crucial step.
Hire a marketing team
Healthcare industry marketing is challenging if you want to make an impact through every digital marketing channel. It's almost impossible for medical professionals since they have to:
Provide treatment to existing patients
Attend emergency patients
Attends regular patients daily
Since online marketing techniques are time-consuming and need dedicated work, top medical professionals and physicians outsource online marketing professionals.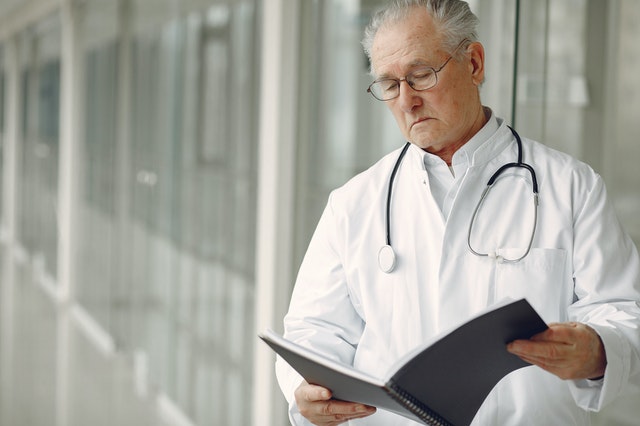 Below are the reasons why Upreports is the first choice of hospitals and medical professionals:
Digital marketing packages starting at $500 per month
A dedicated team of SEO, social media, and content experts
Last yoga school marketing strategies and growth support
Email us at hello@upreports.com to discuss your online marketing goals. 
Online marketing tips- endnotes
The above post has been created to build awareness about the benefits of online marketing for medical professionals. We have also shared some online marketing tips and ideas to help medical professionals do online marketing by getting into a DIY mode. 
Got any queries regarding online marketing pricing? Email them at hello@upreports.com and get a quick reply from our online marketing experts.
Check out these links to learn more about our organization and services:
Content creation price list updated for 2021
Learn about social media marketing services in India
Learn about brand building services in India
Learn about SEO services in India
Learn about content creation services in India