Setting up Google Analytics to view blog-only traffic is important because blog traffic means different things to different businesses. While some value it a lot, others think it messes up the ecommerce conversion rate.
Since blog traffic is usually not conversion ready, a lot of it can shake up your data findings. Hence, it is important to look at the blog traffic separately in Google Analytics.
Since setting up your Analytics to show blog and website traffic separately can be difficult for beginners, we decided to put together this DIY blog view setup tutorial for Google Analytics.
In this blog, Upreports will share steps to set up Google Analytics to create a blog-only view to see blog traffic separately from the rest of your website traffic.
Let's get started with the quick Analytics blog-view setup guide!
Step #1 of Blog-view setup in Analytics
First thing first, login into the Gmail ID with which Google Analytics is linked and login into the Analytics.
To create a blog-only view, head to property settings. You will see the Settings icon given in the bottom-left corner of your dashboard.
Click on it. 
On clicking the Settings icon, a menu list with a vast number of options will open. Click the 'Account settings' and you will head to a new menu list. From there, you need to click on Property settings.  
Step #2 of Blog-view setup in Analytics
A view is a subset of an Analytics account property that has its own configuration settings. By using the 'Create View' button, you can build multiple views for a single property and configure each to show a different subset of data for the property.
Once you open Property Settings, click on the Create View button. A new dialog box will appear. Please refer the below screenshot if in doubt: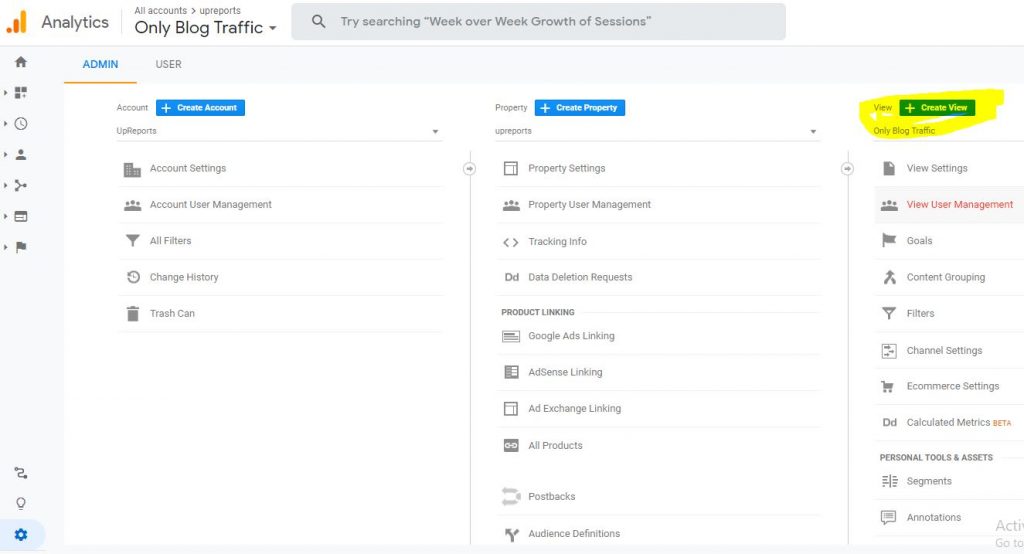 Step #3 of Blog-view setup in Analytics
After a new dialogue box appears, create a separate view. Give a unique name to your blog view. For example, we named it 'Test blog view' under the reporting view name column. Select the time zone, and click on 'Create View'. 
Step #4 of Blog-view setup in Analytics
Once the new view is created, select the Filters option located under the new view list on the far right column. Again, a new dialog box will appear.
Click on the '+add filter' button. Give your filters a title of your choice. Since your team might also use your Google Analytics account in future for data insights, keep names simple and understandable.
Step #5 of Blog-view setup in Analytics
The next step of our Blog View setup guide will differ on the fact whether you are using a sub domain or a sub-folder. In our case, we are using sub-folder. So, you need to follow these steps:
Select the 'pre defined' filter tab.
Choose 'traffic to the subdirectories'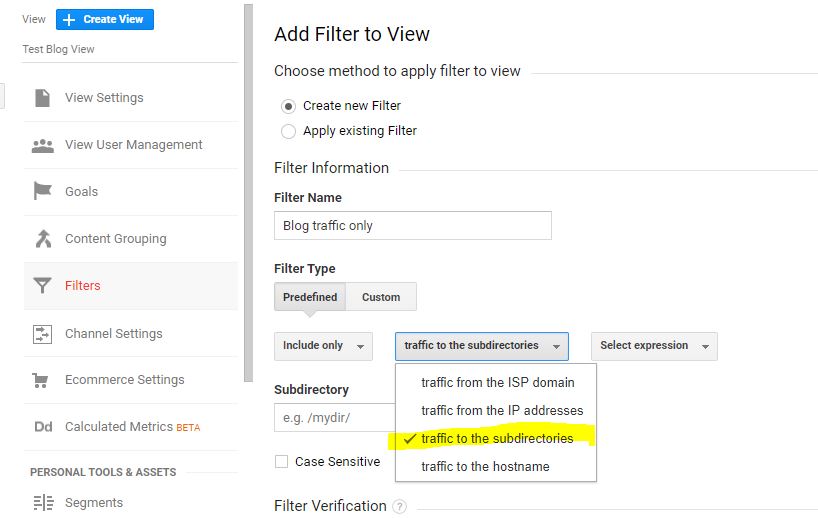 Choose 'that contains' option from the drop-down menu and type in the subfolder name under 'subdirectory option'. For example, in the subdirectories text box, type '/blog/' (without quotation marks). 
Finally, click on the Save button. 
Congratulations!
You just finished setting up a separate blog view in your Google Analytics.
Now, you can look at the blog traffic and metrics separately and make informed decisions in terms of content, marketing, and traffic.
For those who are still not sure why creating a unique blog view will help you content and marketing efforts, check out the below reasons:
When and why create a blog-only view in Analytics?
Following are the reasons why you should have a blog-only view set up in Google Analytics. Also, when you should create one!
When to create: Create a unique view for your blog if your blog is attracting thousands of visitors to the website and you deal in products. As we mentioned, blog traffic is not conversion ready and if you have a lot of it, your conversion rate data will look weak. So, you must create a unique blog-view if you have a lot of blog traffic and you are dealing in products sold through the website.
Why to create: Blog-view makes it much easier to generate the blog specific data metrics and reports. If you are a believer in content marketing and the blogs are working for you, you should set up a unique view for the blog. Another major benefit of using a blog-only view is that it makes it easier to integrate third-party tools such as SEM rush and Showcase IDX for selected content pages. 
Above are the two major reasons website owners and bloggers should go with blog-view for Google Analytics. Using it doesn't mean you will be completely separating your blog from the rest of the website in Analytics. You can still watch all the information at one place. 
Pro tip: Also set up a View that excludes /blog so that you can look at the site data independently as well. We recommend having at least three Views.
All site traffic
Blog only
All site traffic excluding blog
This ends our blog about setting up a blog-view in Google Analytics.
If you think your SEO can use some help from seasoned experts, connect with our team for a free consultation.
Send an email at hello@upreports.com to start a conversation.