A comprehensive business plan comes in handy to get the vision right; with raising money; and tons of other places. Sadly, a lot of entrepreneurs mess up their business plan by missing out strategic details sought by investors, banks, and stakeholders.

In this blog, Upreports will share the business plan outline and complete checklist to create the perfect business plan. Our insights on creating a strategic plan for your business will help you in coming up with the perfect business document!

Let's start with a brief introduction to business plan!

What is a business plan?

A business plan is a roadmap that outlines your business goals and how you are going to achieve them efficiently and effectively. At its core, a business plan showcases how your business is going to work and how you're going to make it succeed in the near future.

Why basic business plan outline?

A business plan is majorly created to provide a direction to your team or to attract investors. Everybody running a business needs a basic business plan outline to help focus strategy, manage milestones, manage metrics, assign responsibilities, and track performance.

In addition, a business plan helps you manage money using projections for sales, costs, expenses, and liquidity or cash. In brief, entrepreneurs need a short and simple business plan which "starts small and grows organically".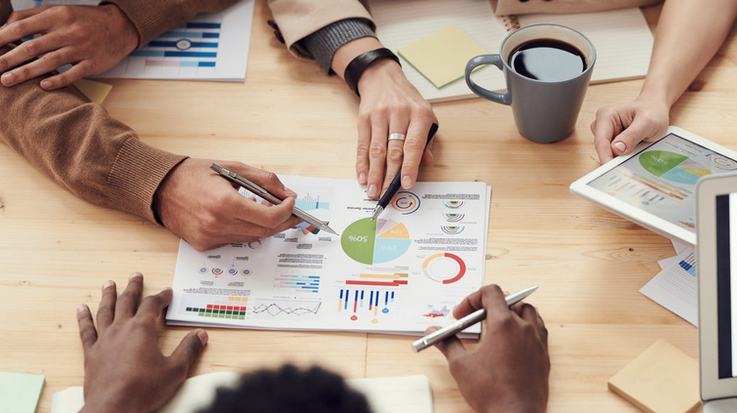 Here are the main reasons you will need a business plan (outline & more):
To define your business.
To support a loan application.
To raise equity funding for the first time.
To define objectives and describe programs.
To evaluate a new product line, promotion, or expansion.
To create a regular business review and correction process.
To define agreements between the business partners or directors.
To setup a value on a business for sale or legal purposes (Exit Plan)
By now, you must have got a basic idea of 'what is a business plan' and why it is essential for entrepreneurs, especially startups! Let's begin with our business plan outline checklist item #1:

Prepare an executive summary

The Executive Summary is the first and most critical phase of your strategic business plan outline. Why? If it holds your readers, they'll get to the rest of your plan. If not, your business plan needs a full revision.

Begin with a brief introduction of your company.
Explain why your company is unique.
Tell them about patents if you have any.
Things to remember while you introduce your company!

Keep it short

Your business plan should be short and concise.
Update your business plan after specific intervals.
It should be a tool used to run and grow your business.
Know your audience

Use layman language that your everyday audience can easily understand.
Keep product introduction simple and direct.
Use the appendix of your business plan's outline to provide the full specs if needed.
Don't be nervous

While most business owners and entrepreneurs are great in growing their ventures, they have little idea how to make a business plan. But remember, you know your business better than anyone else—you're the expert on it!

Start with a simple, one-page business plan and then refine it with a slightly longer, more detailed business plan.

We have been creating business decks for many years now. Learn more about investor deck design services

Industry analysis

The industry analysis begins with the study of your market. Questions like 'what's the market size?' and what's it worth?' ought to be answered. Working on the below points will help:

Figure out the size and characteristics of your target market.
Talk about the market size and its potential
Tell your audience the estimated number of people you'll be catering to.
Get an estimate of how much you'll be getting paid every year.
Client analysis

At this point of your strategic business plan checklist, you need to focus on outlining client's targets and needs.

Identify your current and potential customers. Depict demographic data on your segmented areas by displaying gender, age, earning, geographical location, marital status and education.
When preparing a basic business plan outline, add a section on why your product makes sense for customers. Emphasize on speedy delivery, high quality, accessibility, reliability, price, and value if relevant.
Competitive analysis
Analysing your competitor is a critical element of a successful business plan checklist. Don't forget to add this analysis to your business plan.
Research your direct competitors and include the findings in your business plan outline book. It'll give the investors an idea about your competitor's USPs and drawbacks.
When preparing the business plan, indirect competitors also must be talked about.
Above all, include your business's competitive advantages over both direct and indirect competitors. This will encourage the potential investors to put their funds in your venture.
Marketing plan
Discussing your marketing plan will communicate to your audience that you are taking steps to trigger future growth. For startups looking for initial startup funding, this strategic business plan section is really important.
Reveal your marketing and promotion goals to your audience.
Discuss how you will attract new customers. Will it be via paid campaigns, inbound marketing or something else?
Add your distribution plan to the business outline booklet. This will show your distribution channels.
Operations plan
An operations plan focuses on key elements of your business' work environment. Here's what matters the most while talking about operations part of your business.
Talk about team handling sales, operations, and support.
Graphically show the last 5 milestones achieved and also upcoming ones.
Mention partnerships that are supporting your venture and talk about mileage generated from the same.
Management team
Management team section of your business plan outline will include initials and roles of your team members.
This section displays the present members of your management team and their professional profiles.
If you're a new venture, especially a startup, you will have roles that you'd like to fill later. Identify such roles here, and the qualifications of the people you will find later to fill them.
In case you maintain a Board of Advisors or Board of Directors, display your Board members and their bios in this section.
Financial plan
This section in your business plan is an outline of your financial model. From your income statement to full balance sheet, this strategic section includes every individual monetary aspect.
This part of your business plan shows how you generate income. Do you provide a service, sell a product, or do something else?
Share revenue insights, major expenses, and projected net income for the next five years.
If you are seeking funding for your company, mention the amount you are looking for and share where they will go.
Check out the investor deck we created for $999 only!

Appendix

As discussed above, the appendix of your business plan will include income statement, balance sheet, and cash flow statement. Appendix can also be utilized for displaying product images and sharing additional business information.

Here's what to include in your business plan outline appendix:

Charts, graphs, or tables that support information from your business plan.
Any agreements or contracts that you have with clients and/or vendors.
Licenses, permits, patents and trademark related to your business.
Product packaging samples and illustrations,if any.
Marketing materials details.
Curriculum Vitae of your executive team members.
Contracts and supporting documents for anything else.
Building permit and equipment lease documentation
Contact information for attorneys, accountants, advisors etc.
Credit history, if any.
Detailed market studies of your business portfolio.
Above were the critical factors that contribute to building your business plan outline. In addition, here are the best practices to be followed when formulating a business plan strategy.
Business plan best practices & insights
A convincing business case is the foundation stone of a strategic business plan.
A differentiating product or service description makes your product stand out in the competition.
A clearly defined target market helps identify your product's appeal to the different geographical areas.
A credible statement of goals and objectives serves as measurable milestones in your business growth.
A comprehensive marketing plan helps in identifying the anticipated marketing costs and its impact.
A credible financial plan helps estimate what future profit you expect from your venture's working plan.
Business pan outline – Endnote
By now you must have understood the meaning, importance and feasibility of a 'business plan' along with its basic outline. By following the above tips and insights, you can create a well-defined business plan for your new venture to acquire the seed funding your startup is looking for.
At Upreports, we create pitch-perfect corporate decks and business presentations for businesses & startups across the world. Email your business plan goals to hello@upreports.com and we will share unique ideas to bring it to reality.
Follow Upreports on Instagram for business growth tips and strategies!