Creating the perfect Facebook content strategy is not easy. Millions of businesses spend thousands of dollars every month on social media to generate sales, traffic, and leads. But obviously, not all of them are accomplishing their online marketing goals.
Founded in 2004, Facebook is used by approximately 1.52 billion users daily to:
Stay connected with loved ones
Discover valuable content
engage with brands
Keep an eye on global happenings
Share their likes, dislikes, and opinions
Creating a Facebook content strategy makes sense because it has an engaged audience. Before moving ahead, let's take a closer look at the Facebook audience:
Facebook Audience & Users:
Nearly 88% of Facebook users age 18-29. Surprisingly, women tend to beat men in the competition. 88% of women have a social media presence on Facebook as compared to 76% of men.
Need more data? Here's you go!
76% of adults daily use Facebook. The total number of online mobile active users is more than 1.5 billion! An average user has more than 150 friends on Facebook. No doubt, it is a really big social media platform!

Facebook was created in the US but, more than 85% of its social media traffic comes outside Canada and America. Facebook's largest audience comes from India with over 270 million users followed by 210 million users from the US. No wonder, Facebook is on the mind of marketers and business owners even after so many years.
Read: Online reputation management services pricing in 2021
Now that we know why Facebook holds such a stronghold, let's underline how to create a powerful social media content strategy for Facebook.

Facebook Content Strategy – Important Considerations
Audience Analysis
For businesses active in different industries, the audience and their motivations differ. Hence, before creating a Facebook content strategy, it pays to look at your audience. Figuring out demographic data related to gender, education, and age will greatly determine the type of content that will get maximum response.

Post Frequency
When it comes to Facebook, one update per day is something every business or brand can pull off. More than that will depend on the type of industry you are active in. A wedding planning agency can push 2-3 updates every day without making their followers frown. However, an LED company should limit the updates to 1 only. So, it is best to think twice before going aggressive with multiple FB updates.
Content Type
There are two things to keep in mind when it comes to content: what your audience wants and what will get more engagement. More than 54% of the audience on Facebook likes to read articles. 58% of them like watching videos related to DIY crafts and memes. People like and share posts that they feel relevant to them, and it is a good consideration for businesses to create targeted content.

Hashtag Considerations
Facebook post with hashtags has double engagement than posts with no hashtags. This Facebook consideration begins with Twitter but now has helped almost every social media platform to gain an audience and expand the business. There should be limited but relevant hashtags in your Facebook post. Between 3-5 hashtags is an effective number to widen the reach of your social media content and is a must for your 2021 Facebook content strategy list.

Mobile Considerations
Maximum people use mobile phones to check out their Facebook updates. Every day, more than 989 million users access Facebook via mobile phones and the number is increasing. With features like Facebook stories, people can share their status, photos, and live videos anytime with anyone from their smartphones. Some use Facebook Messenger to send text messages with smiley and emoticons. The Facebook content strategy tip is that all your content should be mobile-ready.

Content Branding
Facebook has countless communities and pages with a large number of followers. These Facebook communities are playing the role of discussion forums where opinions are made, questions asked, products sold, and feedback gathered. It is possible that your content will trickle down to these communities. Therefore, the next Facebook content strategy tip is that your content must be branded correctly.
Want to create excellent Instagram content for your business? Here is the Instagram best content strategy for 2019
By following the above Facebook content strategies, businesses and marketers can generate sales, traffic, and leads in 2021. However, just the above Facebook, social media content strategy is not enough to sell more and generate leads.
Upreports have compiled pro-tips to effectively use Facebook to generate business mileage. By adding the below content creation tips & marketing ideas to your Facebook marketing strategy, you can win the biggest social media platform in the world. PERIOD

Facebook for businesses: Marketing tips for 2021
More engagement over Facebook starts from Wednesday to Sunday. An increasing number of posts during this period will help generate sales, traffic, and conversions. Keep this social media content strategic
Avoid too much promotional content. Self-glorification can annoy your Facebook followers and drive them away. Find the balance between informational and promotional content. Don't ever forget this Facebook content strategy consideration!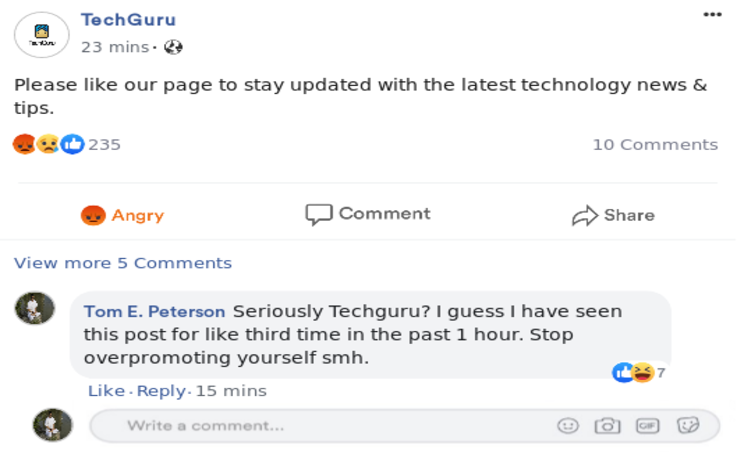 Generate helpful & meaningful content for your followers. Visual content drives more engagement. Check from time to time whether you are creating value or just throwing offers.
Drive images in post for stronger engagement. Adding images/short videos brings more users. Not everybody has time to read every sentence you write. So, choose your words carefully.
Videos get 43% of social traffic on Facebook. A video is a great source of providing information about your brand or business. Create video content around your brand and make sure it's personal. This is a must pick Facebook content strategy.
Facebook advertising is an excellent way to give a major boost to your best content, generate traffic, and get business leads. Give a simple Facebook boost by spending a dollar or create a detailed Facebook Adverts campaign.
Don't forget to frequently share links to your business assets like website, product catalog, and other social platforms to drive visitors in the right direction. Remember, you are on Facebook to generate business mileage.
Go live to surprise your followers and build strong personal content. It is the most effective way to communicate with the audience nowadays. Live content brings three times more engagement than posting an earlier recorded video.
Use Facebook Stories to share important moments with your followers. Use this feature to curate customer experiences and build a positive image around your business. A nice Facebook content creation strategy.
The quality of your content must be consistent. Keep yourself updated with what is currently in trend. Post and express your views in communities and groups to get your business noticed. This will also help you acquire more followers!
Content is king, and creativity is his queen. So, don't forget to make creativity part of your Facebook content creation strategy. If catering to youth, taking references from pop culture can generate returns.
Content that drives action generates the best returns. Make sure that your Facebook updates encourage people to discover your best content, explore your products, or share what they are looking for.
Pinterest is as important as Facebook. Strengthen your social media presence on it with these Pinterest social media content strategy tips and ideas
Facebook Content Strategy – Final words
Creating a practical Facebook marketing strategy is essential to realize the full potential of your efforts. Creating a social media strategy for Facebook requires audience research, social media insights, engaging content, and also advertising know-how. This is the reason why established businesses keep dedicated teams to manage and grow their online presence on Facebook and other popular social media channels.
Don't have time to create unique content for your Facebook and other social profiles? Partner with our growth experts to deploy a unique social media strategy for Facebook.
Email us at hello@upreports.com to discuss your social media goals with us!
Learn about our most popular digital marketing services:
Social media marketing services

Reputation management services