They say 'customer is king', and we completely with the statement. We also think that if the king says someone is awesome, you have every reason to believe it. At UpReports, we treat clients like kings and they are quite generous with their praise for our expertise and offerings.
Today, we share how clients review us after benefiting from our UX, conversion, optimization, and performance expertise.
Let's begin.
Review from IT company search platform
Spotent is an upcoming startup that wants to change how entrepreneurs and brands search and hire IT companies. Our team helped the development team in perfecting website pages and suggested UX enhancements to simplify data gathering process. Here's the client testimonial for you!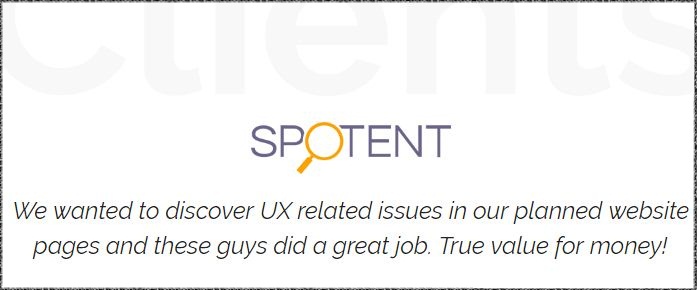 Words from top clone script directory
Clonescript.com wants to change how young entrepreneurs discover top quality turnkey solutions to start online ventures. Its founder, Jack Qian, required help to get his blog up and running. Our team assisted the company with post planning and development.
Cool fact – We have been working with Jack for 2 months now.
Testimonial from local delivery startup
My Buddy is a venture trying to change how people move stuff from A to B. To get their branding right, they came in touch with UpReports team. We assisted the startup with content planning and branding to connect with the audience as well as search engines. Have a look at client review.
UpReports is consulted by businesses & brands from across the world for improving website traffic, product sales, and business leads. Our actionable reports are widely used by technical teams to discover hidden website issues costing traffic and revenue loss.
Want a sample growth report to learn how we work? Drop your request at hello@upreports.com  and get it in your inbox!
Learn about our most popular digital marketing services:
Social media marketing services
Reputation management services