Social media users reached over 3.96 billion in January 2022. These numbers are enough to understand why it makes sense to invest in social media marketing. Startups and small businesses often struggle in growing through social media marketing. That's because they are not aware of social media marketing basics.
On account of this, Upreports – a leading online marketing agency in India – create this post to share the basics of social media marketing. 
First, let's learn about the meaning of social media marketing.
What is social media marketing? 
The term social media marketing refers to using social media platforms for promoting your products or services for sales and profits. Social media marketing is used to build the brand, reach more audiences, and business growth. 
Without getting familiar with the basics of social media marketing, it is hard to boost business sales by using social media platforms. Read on to discover the top 10 basics of social media marketing.
Social media marketing basics
Below are 10 basics that will help you better understand everything about social media marketing: 
Use hashtags
It is a word or phrase prefaced by symbol hash(#) used on social media channels. These are used to categorize content and track topics on Twitter, Instagram, Facebook, Linkedin, Pinterest, and other social media platforms.
Discover local & global SEO services in India. 
Relevant captions
Captions play a very crucial role in maximizing the chances of share. Create relevant and engaging social media captions. Start thinking about your audience and write engaging captions for your social media posts so that they come back more. 
Post frequency 
Social media experts recommend publishing 1 or 2 two posts every day for better engagement. Businesses publishing more than 3 posts a day often face low engagement. Respond to the comments on your posts and tag others in your posts and stories to maximize the chances of sharing.
Other social media platforms
Facebook and Instagram are not the only platforms from which you can get more sales and profit. Linkedin, Twitter, and Pinterest are some of the other options for businesses to reach more audiences. Identify the relevant platforms for your business and create a business profile on them.
Business profiles
The next social media marketing basic is to fill 100% details about your business in your profiles. Add business name, address, contact details, website link, images, and other important information to maximize the chances of ranking on Google.
Learn everything about social media marketing services in India. 
Define your content strategy
After completing your profiles on social media platforms, the next step is to define what you are going to publish on your profile for engagement and interaction with audiences. Publish helpful content on your business profiles.
Follow businesses
Following others will help you in showing that you are an active participant on social media and you are not only here to share your content with others. Follow industry leaders and fresh profiles on social media platforms to get more chances of attraction.
Promote your profiles
Avoid promoting your business profiles on social media more than twice a week. Pick some additional places like emails, your website, and cross-promotion between social sites to promote your social media profiles.
High-quality media
Low-quality content on your social media profiles can put a negative impact on your audience. Publish high-quality media such as photos and videos on social media platforms to maximize the chances of engagement and growth. 
Engage with others
Always remember social media is not only all about you. Social media is used to get noticed by others and to be an active participant in front of your audience. This will help you in building strong relations with your audience.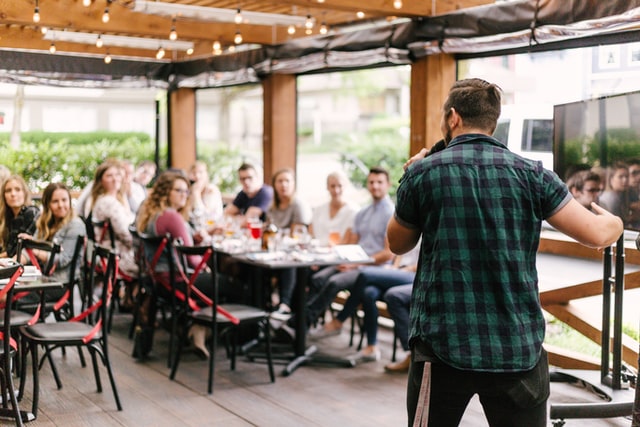 Social media basics: Final thoughts
We hope that the above post will help you learn about the basics of social media marketing. If you are struggling to create high-quality content for your business, then, it is best to go for content creation services in India to get SEO-friendly content on your website and social media profiles.
Have queries to ask? Drop them in the comments to get a quick reply from our team of experts. 
Also, read our recent blog posts:
Tips to increase organic traffic for website. 
Best Instagram account marketing tips for business. 
Top 10 books for digital marketing beginners. 
16 on-page SEO techniques to rank higher.