On May 4, 2020, Google unrolled the second core update of the year. This update was way bigger from the first one that they unleashed on January 13, 2020. They announced the May Core update of the year by tweeting:
This Google core update came when businesses across the globe were facing low sales due to pandemic lockdown. This is the reason why this core update was criticized by entrepreneurs and webmasters.
Let's first learn what Google's May Core is all about to learn everything you need to know for faster core update recovery.
What is Google's May 2020 Core Update?
Some SEOs named this update as Pandemic update and Force update as most of the businesses were already struggling due to COVID-19. Unlike Google updates like Panda and Penguin, this core update wasn't about punishing websites that were doing black hat SEO. Instead, it was more about rewarding websites that have done good work in the past couple of years.
Here's how Google explained the reason behind Google May Core Update:

Read the complete update by Google over here.
Google's May 2020 Core Update: Impact
Since Google May core update was industry wide, most industries were affected by it. Travel, hotel. Here's an initial industry data came up during the initial days of the core update: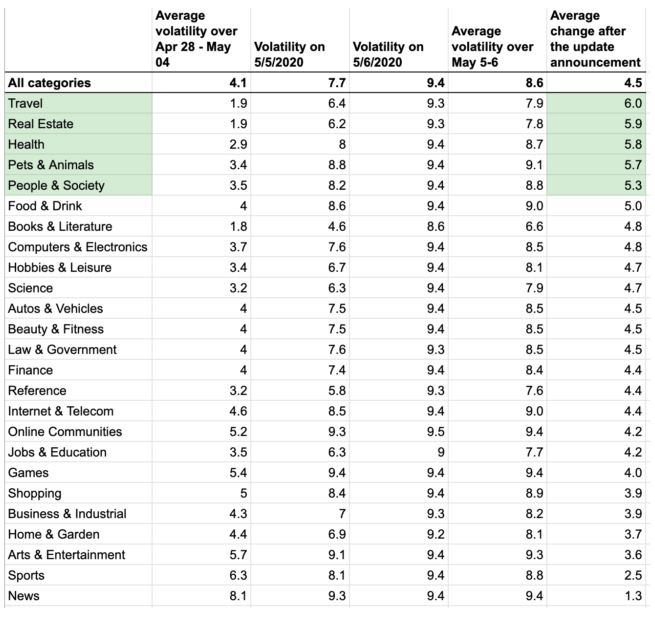 Our personal analysis done by analyzing the client data shows that overall relevance has been given more weight in determining the ranking.
Example:
For a yoga school in Boston, we created a blog on '20 top things to see in Boston' in 2018. Before Google Core update, this blog ranked on the first page of Google and generated massive traffic. After Google May Core update, this blog dropped multiple positions and fresher content from travel websites replaced it.
Further insights:
A yoga school in Boston writing about Boston tourism is relevant but not as relevant as a travel website writing about Boston tourism. Compliment this relevance with freshness and you have Google May Core Update!
Now, let's figure out how to recover from the Google May Core update!
Google's May 2020 Core Update: Recovery tips
Google hasn't shared any special guidelines to recover from Google May Core update. However, it has requested webmasters to take cues from earlier Google core update guidelines.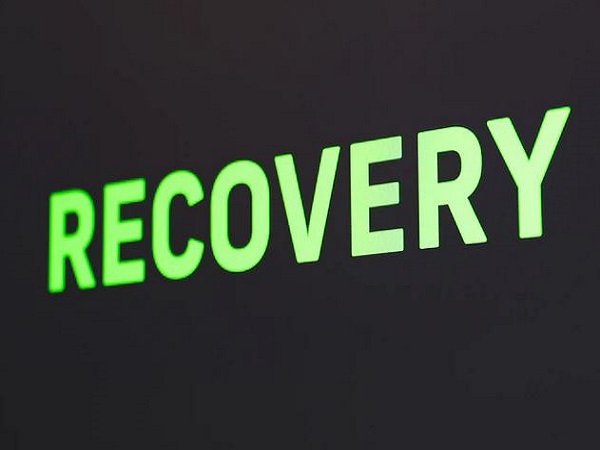 Our team of SEO experts re-examined the core update recovery guidelines underlined by Google and shortlisted the below action areas. If your website is hit by Google May core update, then, you got to keep the below points in mind for faster recovery:
Strategy focused core update recovery ideas
Google May core update has hit millions of websites. A lot of our SEO clients have also experienced a slip in some keywords. After analyzing their traffic and keyword shift, we have reached some observations that will help you recover:
If a lot of your keywords have noticed a downfall trend, then, your first task should be to see if there are any common threads connecting some of them. For instance, one of our clients majorly deals with organic fertilizer. The company also deals in gardening supplies but dominates very few keywords for it. After the Google core update, the business lost the keywords for gardening supplies since it is not their major focus area. Hence, our initial task should be to identify what kind of keywords have experienced a major slip.
Once you have figured out what kind of keywords have been affected the most, it is time to identify where you need to make improvements. It is possible that the affected category doesn't have a lot of content and backlinks supporting it. So, if the common set of keywords are of critical value for your business, it is time to pay special attention to this set in the coming months.
If the impacted keywords of great value for your business, our team of SEO strategists highly recommend creating a dedicated strategy for them so that they get the attention they deserve.
Content focused core update recovery tips
Content remains the most influential element in terms of ranking. Time and again, Google has told us to focus on the content we create. To recover from Google May Core update, content is crucial as well:
Provide original information and analysis through your content. Share unique analysis, findings, and data to make it truly insightful & valuable.
Avoid copying and rewriting the content that already exists out there. Bring unique insights on the table to get rewarded by search engines.
Make your content free from easily-verifiable factual errors. Check grammar and spellings twice before publishing it. There are many applications available on the internet to check grammar mistakes. Use them!
Focus on branding can help improve content as well as SEO
UX focused Google May update tips
User experience is another critical element that Google has been emphasizing on for a long time now. Here are some UX tips and hacks that have been shared through Google guidelines to speed up recovery:
Make your website and content mobile-friendly. Mobile-first indexing is a clear indication that Google is giving huge weightage to mobile experience for ranking.
If you are running a content driven website and ads are your main source of revenue, then, clamp down on excessive ads that ruin visitor experience.
Pay attention to every element that comes together to deliver ace user experience. Font style, font size, white space, visual content, relevant linking, and other similar UX aspects ought to be perfected
Bonus core update recovery tips & hacks
Get positive reviews from your customers to improve your authority in the eyes of Google. The best platforms to get positive online buzz are Google Maps listing and Trustpilot
If you are running an ecommerce website, make sure you have added pages like Terms & Conditions, Refund Policy, and Privacy Policy to your website.
Conduct a thorough website UX checkup to identify areas of improvement. A website that loads quickly, delivers a good experience and packs amazing content is the recipe of SEO success.
Last words on Google May Core Update
Google May Core update came as a heavy blow for some businesses and a lot of people as saying that it was ill-timed but let's not forget that it was actually Google's way of rewarding websites that did good work in past few years rather than penalizing the ones that lost some keywords and ranking.
The above tips will help you to bounce back and to rank on search engines once again for the lost keywords. The recovery may not happen instantly but it sure will if efforts are dedicated in the right direction.
Need expert help to further strengthen your SEO prospects? Email us at hello@upreports.com to get friendly advice from our team of digital marketers.