Corporate presentations and investor decks are crucial to raising funds, scoring projects, and impressing senior management. However, managers and entrepreneurs often don't have the time or expertise to come up with an extraordinary corporate PPT. This has propelled the demand for corporate presentation PPTs. However, choosing a corporate presentation service provider isn't easy and a lot of questions need to be answered.
That's why Upreports – a leading provider of corporate presentation services in India – decided to come up with the most frequently asked questions that managers and entrepreneurs can ask before hiring. Through these questions, you can easily hire a team of corporate presentation service providers in India. 
Without future ado, let's jump right in!

Presentation services FAQs
Below are the frequently asked questions about our presentation services in India.
What kind of PPTs do you specialize in? 
Our team of experienced graphic designers and content creators specializes in stage presentations, business presentations, event presentations, and speaker presentations. We make sure our client gets everything perfect, be it a simple presentation or something out-of-box.
What's the average cost of PPT design with your agency?
We offer corporate presentation services at a very affordable price. We primarily charge $500 for a 12 to 17-page presentation. However, the cost of presentation may vary depending upon the no of slides, and creating asked by the client.
How many days will it take to create a presentation?
It takes a minimum of 10 working days to create a corporate presentation for our clients. Our team invests dedicated effort and time to make sure every part of the presentation is perfect and easily understandable for audiences. 
How many members are there on your graphic design team?
We have a team of 3 graphic designers and 4 content creators to handle every presentation project without any hurdles. Our team of presentation creators has over three decades of experience in creating different types of presentations. 
How many revisions can I claim if I don't like what I see? 
The presentation is made by our team of highly experienced graphic designers and content creators. So, it doesn't need revisions. However, we offer 2 revisions per presentation to make sure everything is done according to client needs.

What information do you require from my end to get started?
Our team of graphic designers and content creators needs every detail about the presentation from the introduction to the inspiration behind the presentation. Gathering essential information from clients helps us in making it look more professional and meaningful. 
If I require revisions in the future, will you support me with that?
Yes, we support our clients in every possible way. Our team is always ready to support our clients by giving revisions. In short, revisions are accepted at Upreports by our team of graphic designers and content creators. 
What's your design process for a presentation?
Our team follows a proper process for designing a presentation. Below is the process followed by our team of graphic designers and content creators:
Presentation goals insights
PPT data and material reviews
Core ideas and identify deep-dive
Initial slide mockups creation
Client feedback and inputs
Final presentation delivery
Tweaks and wrap up 
Which design tool do you use to create presentations? 
Our team uses Canva and Microsoft PowerPoint to create presentations for our clients. These two are the most trusted and loved platforms of graphic designers for creating modern presentations. Canva and Microsoft PowerPoint provides a variety of modern tools and designs. 
Do you offer client references to attract new clients?
We sign NDA before starting the work and keep the identity of our clients safe. But if the client doesn't have any issue if we give their reference then, we give their reference to future clients. Client data confidentiality is always on top for us. 
Do I need to pay the amount in advance or do you work with partial payments?
Most of our PPT clients pay the full amount in advance. But if our client doesn't want to pay the full amount in advance, then, we offer a deposit of 60% in advance before starting the work and the rest of the payment after delivering the presentation.
What makes you better than others for presentation?
There are many benefits of partnering with Upreports for presentation creation. Our team of experienced graphic designers and content creators brings benefits such as:
Our team creates clean and impactful presentations to engage with the audience.
We help our clients in creating a big impact during important events.
We deliver a powerful message by creating a presentation to establish your brand identity.
Hiring an inexperienced team will fail to impress your audience with the presentation. On other hand, our team will impress the audience with their design skills and experience.
Do you also offer digital marketing services?
Yes, we also offer digital marketing services to our startups and businesses to help them grow in the digital world. We have helped 100+ client rank higher on search engines with our digital marketing services in India. 
What type of digital marketing do you offer to your clients?
We offer a variety of digital marketing services in India to individuals and businesses. Below are our most loved digital marketing services: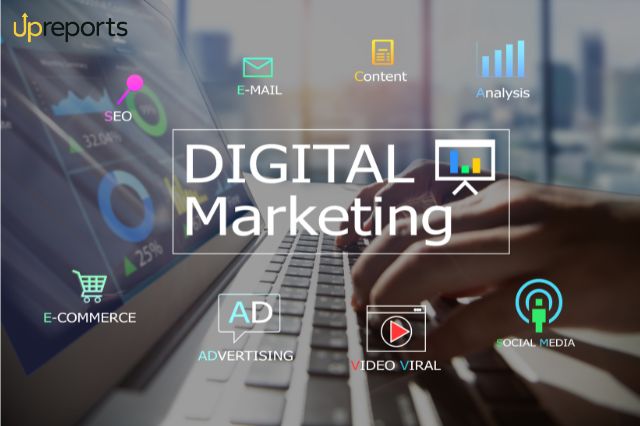 Presentation services in India: Final words
We hope the above post will help you in hiring a corporate presentation service provider. However, to get the best ROI it's highly crucial to invest in a team of experienced corporate PPT designers. 

Upreports is a leading online marketing service provider in India that has delivered corporate business presentations to hundreds of entrepreneurs across the globe. Check out our corporate presentation designs!
Have queries to ask? Drop them in the comments to get a quick reply from our team of experts. 
Also, check out our recent blog posts:
Top content marketing stats and facts
Social media marketing FAQs for businesses