Just like any other industry, digital marketing for schools in 2021 is also necessary. It helps them in building their brand and amplify their student recruitment process. Sadly, a lot of private schools aren't aware of digital marketing perks and are still relying heavily on old-school marketing practices, say billboards, newspapers, and direct mail. 
They aren't aware of the fact that things aren't going back to pre-pandemic normal. And that traditional marketing and communications strategies that used to work for schools are bogus for 2021 and beyond. Nowadays, digital marketing is the new sexy!
In this blog, Upreports – the leading digital marketing agency in India – will tell you about the benefits of digital marketing for private schools. Also, we will share a range of online marketing ideas for schools to increase enrollment.
Let's start with the benefits of digital marketing first!
Benefits of online marketing for schools
Below benefits are helping school owners learn why it makes sense to invest in online marketing:
Local reputation: One of the major benefits of digital marketing is a strong buildup of local reputation. As of 2020, there are 130,930 recorded numbers of K-12 schools in the United States of America. Without a strong local reputation, it's hard to get leads.
Online marketing is a cost-effective way to represent your school in front of local and nearby audiences.
Strong relations: When there were restrictions on movement due to COVID, online marketing played a big role in helping private schools as well as institutions reach new students and build stronger relationships.
From infrastructure to facilities and reputation to a rigorous curriculum, digital marketing helped schools across the globe make their marketing material digital.
Virtuous response: Digital marketing is the best medium to communicate and interact with your targeted audience in no or less time. No, we are not exaggerating it.
During the COVID-19 lockdown, many K 12 schools used online Marketing channels to provide replies to their audience feedback and read queries instantly through their social media channels.
Cost-effective: Online marketing is loved by thousands of school owners due to its affordability. Some private schools do hesitate before investing in online marketing since they assume it is pricey.
While there are expensive marketing agencies out there, a lot of online marketing packages start at $500 per month only. Our basic package starts at this pricing too!
Email us at hello@upreports.com to get in touch with top online marketing experts.
Above are the major benefits of digital marketing for schools. Now that you have an idea of why it is best to go for online marketing, let's learn some easy tips to market your school on your own.
Digital marketing tips for K-12 school
Work on social media: The number of active social media users is increasing every month. Create business profiles on popular social media platforms like Facebook, Instagram, and Pinterest to talk about your school, infrastructure, and curriculum. Also, share event photos since they are an integral part of learning and building a strong cultural belief.
Get a website: It has become one of the major aspects of digital marketing for private schools. A website will represent your brand online and help potential students, parents learn why you are the best in the industry.
Get a nice logo. Add the necessary information, infrastructure/event images, and content for your school to make a maximum impact on the website. Make sure it is responsive and loads ultra-fast.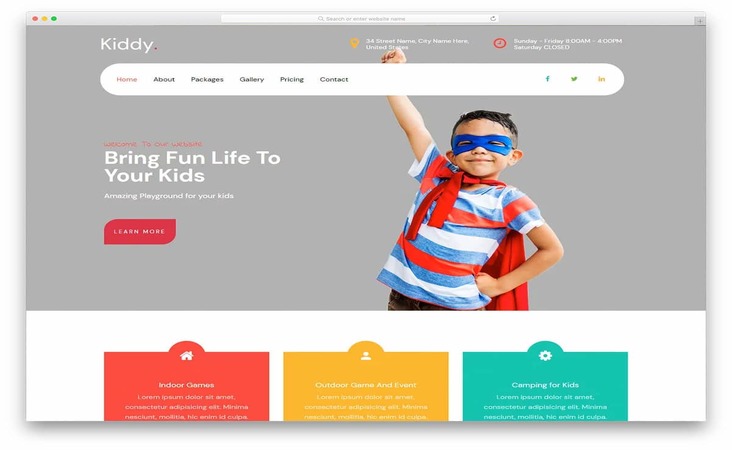 Use high-quality images: Avoid using blur or stock images on your social media profiles and website. Hire a professional photographer to click photos of your staff, school, students, and events.
If you are low on budget, you can also take help from your colleague or family member who is good at taking pictures.
Get a mobile-friendly site: The internet traffic from mobile phones is approximately 54.18% of total traffic. There are many chances that your future client will visit your catering website on their mobile phone.
Top online marketing experts recommend making your school website mobile-friendly.
List on Google My Business: Marketing your K-12 school in the local region without GMB (Google My Business) is like eating a pizza without the crust. Create your school business profile on GMB (it's free!) and start publishing updates to create awareness.
Add contact details, school address, and photos to rank higher on Google My Business.
Communicate regularly with a newsletter: Email newsletters are low-cost, promotional, and communication tools. You can take a basic approach and send a weekly or monthly email newsletter to existing parents. That's simple. 
You could also use your website and other assets to build a database, use segmentation to deliver customized and more tailored messages.
Produce videos: Is producing school videos relevant? The answer is YES. Videos are one of the most powerful online marketing tools because people connect better with visuals and it is far more engaging. Make high-quality videos concerning your school. Upload videos to YouTube, Vimeo, Instagram, Facebook, and LinkedIn pages.
Create content: In the world of online marketing, Content is king. Publish 4 to 6 blogs every month to reach your target audience. Share your expertise by writing about how traditions have evolved on your campus, what events your school is known for, how students or teachers feel after joining your school, and what parents like about your school.
Create infographics and PPTs to market your business as well. Learn how much content creation costs across the globe.
Ask for reviews: Request your happy parents to share their experience by giving reviews on popular review websites like Trustpilot, Google Maps, and Yelp. Don't ignore or delete negative reviews as it can further ruffle your audience. Keep it positive and handle every concern with understanding.
Track competitors: No one has it all figured out. Keep an eye on your competitor's online marketing strategy to learn their best tactics. Avoid making the same mistakes and upgrade your school marketing strategy. Check their social media and website regularly to understand how they are getting traffic and admitting students.
Digital Marketing for K-12 schools: Get help
The above post has been created to build awareness about the benefits of digital marketing for private schools. We have also shared some online marketing tips and ideas to help brands that are on a small budget and want to go into a DIY mode.
Get in touch with our team of marketing experts to request a free consultation for your school. Have queries to ask? Send an email at hello@upreports.com to get a quick reply from our team.
Learn about our most popular digital marketing services:
Social media marketing services India
Reputation management services in India
Online marketing services in India