Quora has over 300 million active users worldwide and is widely used by businesses and marketers for boosting sales, traffic, and community engagement.
Using Quora for marketing might look easy but it actually isn't. That's why Upreports decided to create this blog to help businesses talk about their products and services on the growing community platform.
In this post, Upreports will tell how to promote your business on Quora and also share expert tips on Quora marketing and branding. So, start paying attention and read on!
First, let's learn what's Quora
Quora is a question/answer platform built to ask questions from industry and domain experts. From health advice to political questions and personal stories to DIY support, everything goes into Quora.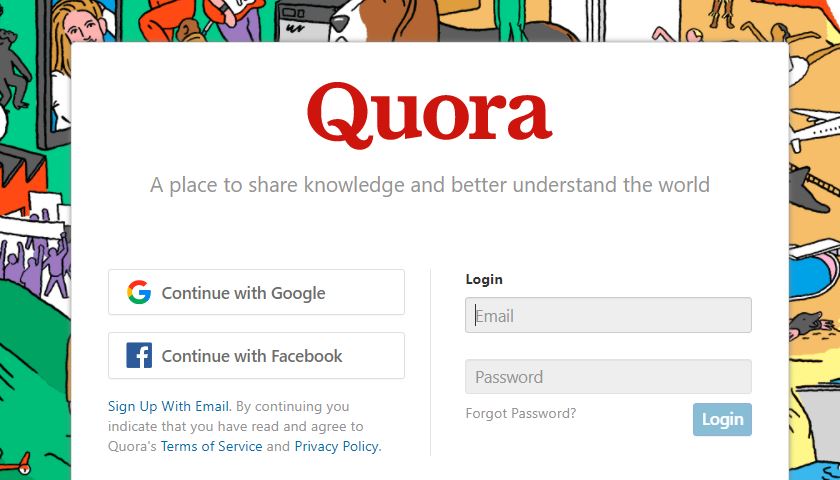 As Quora grew, it also started becoming valuable for marketers and businesses interested in connecting with their audience active on the platform.
Businesses nowadays use Quora to reach potential customers by:
Answering relevant questions
Interacting through comments
Creating marketing driven questions
Running paid campaigns
Participating in Quora Spaces
Creating business driven topics
Now that we know the basics of Quora marketing, let's look at the benefits of being active on the biggest QA community platform in the world!
Benefits of Quora marketing
Business owners who ignore Quora marketing do so because they are unaware of its huge benefits. Below are the top benefits of using Quora for marketing:
Answering relevant questions helps potential customers/ clients learn about your business
Since Quora question threads rank on Google, it is an easy way to dominate some business search terms.
Quora is a great place to get ideas on content creation.
The QA platform also helps in learning more about the target audience.
Quora also helps in maintaining business reputation since reviews focused queries are highly popular amongst its community.
Now, you know what is Quora marketing and how it helps in business growth. Now, let's learn how to promote your business on Quora!
Learn how to build a brand online without big ad spend
How to promote your business on Quora
Disclaimer: Like most people-driven communities on the internet, Quora is not a place that welcomes marketers who are only concerned about self promotion.
Therefore, nothing less than a streamlined and planning approach works for Quora marketing. Below are some tips and ideas that will help you create the perfect Quora marketing strategy:
Create perfect Quora profiles: It is important to create a couple of relevant person profiles on Quora to kickstart marketing and brand talk. While one can clearly state that you work for the business, the other one can be you minus the business association.
Fill in all the details in the right way. Add:
Areas of expertise
Interests
Location
Designation
Language familiarity
Education
Photo
Social media accounts
For your non-brand related Quora profile, skip the designation.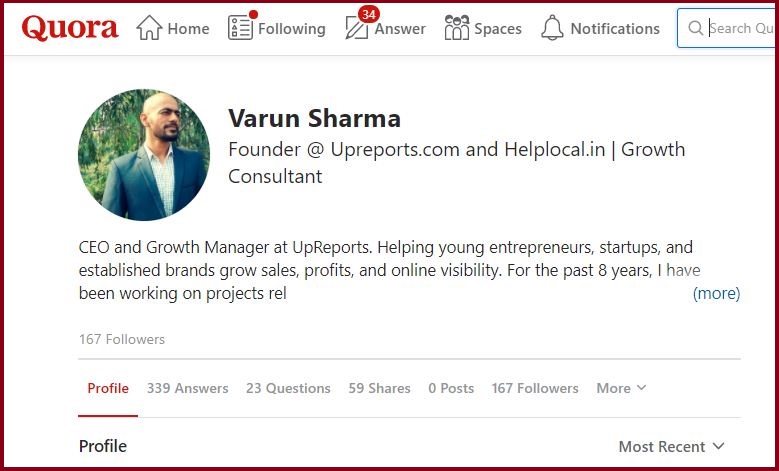 Search relevant questions to answer: After creating both profiles on Quora, the next step is to search for questions related to your business. Quora search is very powerful and will instantly show you questions that already exist for your shared query or question.
Choose the questions wisely. If the answers already have more than 20 answers, then these are not perfect for you. Search for trending topics that are related to your industry or product/services. If you are just setting out, you won't have a hard time coming across relevant questions.
Pro tip: Answer the ones that are directly related to your business (feedback, reviews, etc.) through the branded profile. Answer the others through a non-brand related profile!
Wondering how much SEO costs in India? Here's SEO cost per month in India
Keep it length and knowledgeable: The length of your answers plays a major role in getting ranking and upvotes on Quora. The users of Quora love to read long answers since a lot of them are trying to answer specific queries. Avoid writing very short answers on Quora to get more views. That will end up at the bottom of the answer threads!
Below Quora marketing tips will help you write answers the right way:
Give proper headings to every paragraph
Add bullet points
Try to add links to your answer. 3 is the magic number for us! (one to your website, another to a knowledge resource, and last to a relevant Quora answer)
Add images and videos
Keep it informative
Keep the language simple
Add amazing images: Images help in making the answer look interesting and attract more viewers. Avoid using blurry, low-quality, and stock images. Take advantage of free image repositories like Unsplash to get high-quality images related to your answers.
A couple of images will not only add the visual feel to your answer but also add more value if they will carry context. Adding infographics in place of images is also a great way to generate business mileage during Quora marketing for business!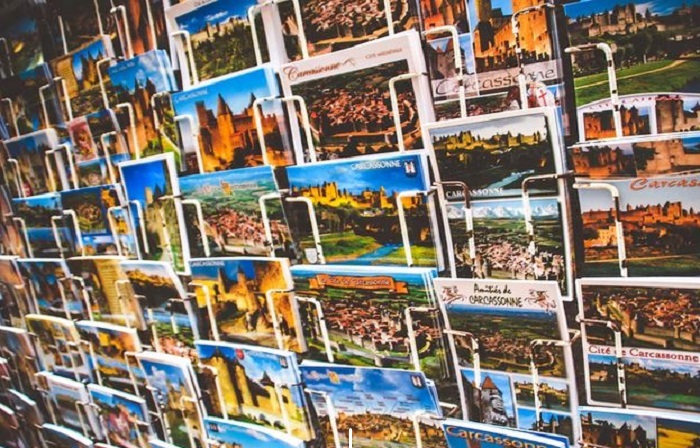 Embed video content: Videos have gained immense popularity in the last decade. Google has started ranking videos on the top as well. Therefore, it makes perfect sense to channel the power of videos for your Quora marketing activities.
Use videos related to your business to help others learn more about your products and expertise. Embedding is really easy in Quora. Marketing newbies however are often confused while choosing the right video.
Below tips will help you choose the right video while promoting your business on Quora:
Share customer review videos
Share behind-the-scene videos
Use explainer videos
Use informative and DIY videos
Internal linking: All Quora backlinks currently are no-follow in nature. However, this doesn't mean they don't have any value. Adding links of your business site, helpful resources, and other Quora answers improves reach and authority of your answers.
Avoid adding too many links to avoid getting marked as spam. If you have already answered on the same topic, add a link to your previous answer. This will help you get more views to your older answers as well.
Contribute some answers without links as well to save your account from getting blocked.
Discover online reputation management services cost of 2021
Ask questions: Many business owners and marketers are unaware of the fact that asking questions on Quora can also help in bringing traffic, sales, and engagement. Ask questions about trending topics, industry trends, and request other Quora users to answer your questions.
Once you start getting answers from other users, give upvotes to good answers, and comment on them. This will help you build a strong relationship with your audience.
Secret hack: If the question has a lot of business value, answer the same from your other ID to get on the first spot!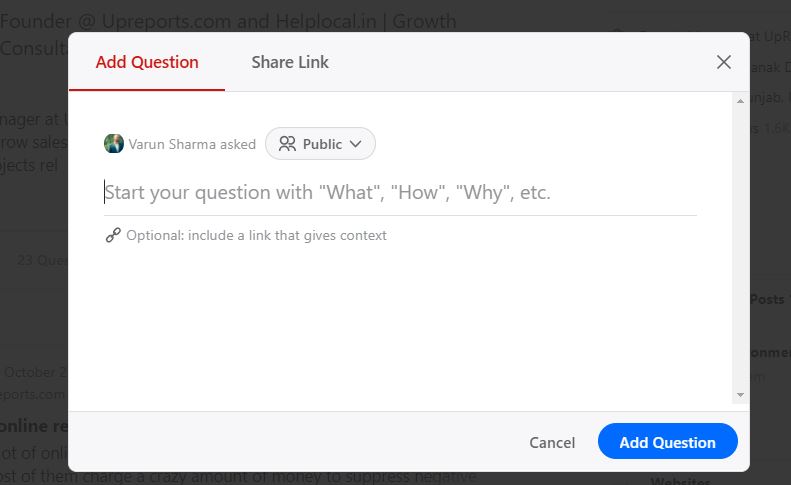 Avoid over promoting: Over promoting on Quora can get your profile on the spam radar and your answers will start getting deleted. Make sure you read the Quora terms and conditions to avoid getting on the wrong side of the biggest QA platform on the internet.
Create helpful content and write genuine answers to make sure that you don't come across as a self-obsessed marketer who is only here to make a sale. Answer questions relevant to your interests as well to make your profile page more authentic.
Get active on Quora Spaces: Quora Spaces were launched 2 years ago but didn't kick off as planned and gained a lot of popularity. But it is still home to some amazing communities that can be used for sharing:
Short text updates
Links
Questions
Photos
Since Quora Spaces are not as crowded, it can be good place to build meaningful connections and kickstart brand building around your business.
Quora marketing with Upreports
Above is everything you need to answer the question, 'how to promote your business on Quora'. Use our Quora marketing tips, ideas, and guiding pointers to build a strong presence on the QA platform to generate sales, leads, and traffic.
If you are struggling to reach maximum potential on Quora and could use a helping hand, discuss your goals with our team of content marketers. We would love to join forces with you!
Have questions in mind about online marketing? Drop your questions in the comments or email us at hello@upreports.com to get a quick reply from industry experts.
Did you check out our newest CSR initiative? It's this platform to find local NGOs of India!
Media sharing and concept credit for this post goes to the team of Pathankot Today News
Stay connected with us and keep sharing!

Learn about our most popular digital marketing services:
Social media marketing services

Reputation management services