An Import-export business is already one of the prospering businesses in the world. And when you go with digital marketing for your IMEX business, you are unlocking the gate to high profits and sales. Sadly, not many people are aware of digital marketing and its benefits, even today. We are here to help them out!
In this blog, Upreports – the leading digital marketing agency in India – will tell you everything about digital marketing for the import and export business. From meaning to benefits to best marketing ideas, we will discuss all important aspects.
Let us understand the meaning of online marketing first!
What is digital marketing?
Digital marketing is the process of promoting your expertise to connect with its potential customers using the internet, mobile devices, social media, search engines, and other forms of digital communication.
Also called online marketing, it is on the roll and covers search result ads, email ads, and promoted tweets – anything that consolidates marketing with customer feedback or a two-way interaction between a company and its customers.
Digital marketing benefits for import-export companies
These benefits will tell you why it makes sense to invest money in digital marketing:
Service popularity
If your import-export services are something that companies tend to search in Google then digital marketing will give you an understanding of how popular your products are. It will also tell you what other products or services forms are in heavy demand in the country you are thinking of exporting.
Find shareable content
Blogging is a good way for your import-export business to establish trust and clout in your industry. If your business rivals are blogging to attract an audience to their business, then digital marketing can help you analyze what blogs are getting them leads. It will tell you about blogging tactics that can make your brand popular just like theirs.
Global reach
With digital marketing, the sky's the limit. Meaning, it removes all sorts of geological boundaries. You can open your doors to different countries and offer your services to customers unfamiliar with your brand. You can market to them with just a click and create awareness to people who otherwise had no chances of knowing about your existence.
Strong relations
Do you know that when all import-export businesses were shut down during the coronavirus lockdown, some IMEX companies managed to offer their expertise using online marketing? Digital marketing helped them to showcase their products to potential clients abroad while obeying all the COVID-19 guidelines.
Affordability
We consider this as the biggest benefit of digital marketing for the import-export industry. Online marketing is loved by hundreds of thousands of people because it is cost-effective. You can continually evaluate how it is promoting your services online. Measuring the ROI from your business campaigns helps you to re-work strategies and put the resources toward the right projects.
A lot of online marketing packages start at $500 per month only. Our basic package starts at this pricing too! Contact us if you have queries regarding our digital marketing packages.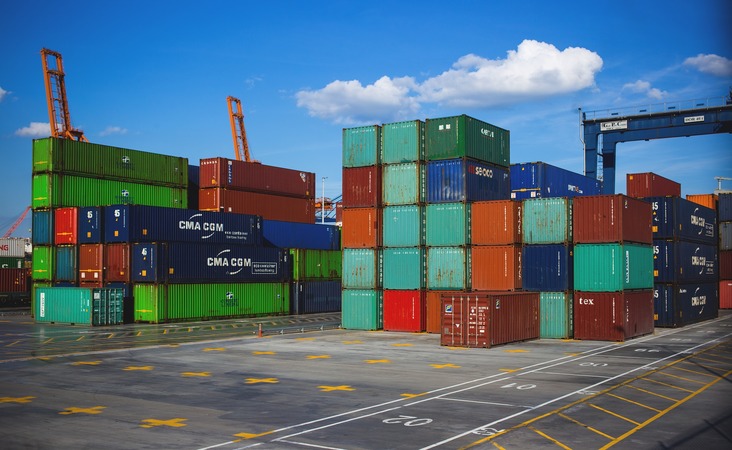 Above are the major benefits of digital marketing for import export service providers. Now that you have an idea of why it is best to go for online marketing, let's learn about the best strategies to market your IMEX business on your own!
Best marketing ideas for import-export companies
The following online marketing tips will help import-export businesses to improve their service for their customers and generate growth and revenue:
Understand your business
First things first. You need to understand your import-export business model completely before reaching out to your target market. Ask yourself these questions:
What kind of import-export business are you running?
What products and services do you intend to sell?
Who makes up your target audience?
Is your business a sole proprietorship or partnership entity?
What are my business strengths, capabilities, and weaknesses?
Asking yourself these questions will help you get a clear picture of where your IMEX company stands right now and where you want it to be a year down the line. It will help you determine what online marketing goals you can and cannot accomplish.
Build an SEO-friendly website
Search engines like Google and Bing look over 200 guidelines to rank a website for a particular keyword. Do you know what it means? It means if you manage to rank higher for a particular keyword in organic results, you will get more than 36% of visitors searching for that particular keyword.
Therefore, while developing your import-export website, concentrate on on-site SEO parameters. Make sure to add keyword-infused content. Reduce page loading time. Also, add a bot-friendly sitemap.
Keywords research in the international market
As an import-export products or services provider, it is obvious that your goal is to attract people from different countries across the globe. You might want to know how much interest there is in your products or services in various country targets. A thorough keywords research will help you know about the searcher's intent.
You can reach them when they are looking about what products or services your IMEX business sells online. Consider these aspects while searching for keywords local and international keywords:
Consider more search engines besides Google
Think about transliteration
Choose highly targeted keywords for each of the places you're hoping to localize
Utilize different powerful tools like Google Adwords, Google Analytics, and UberSuggest for different purposes
Everything you need to know about on-page SEO optimization for your import-export business.
Create social media profiles
Without active profiles on different social media channels, you are missing out on a potential customer pool worth 4.48 billion people. Social media helps import-export businesses to gather visitors by ranking their posts as per the number of likes, hearts, and comments and demonstrate their business directly on the user's feeds.
Create business profiles on social media platforms like Facebook, Instagram, and Pinterest to promote import-export services with exciting pricing offers.
Ask for reviews
Promoting your import and export business without getting reviews is like winking at a girl in the dark. You know what you are doing, but nobody else does. According to Invespcro, 9 in 10 customers think of an online review as a personal recommendation.
Ask your customers for a positive review. It will help your potential clients visualize import-export services they are considering from your website.
Digital marketing for import-export business – get help
Above are the best online marketing ideas for import-export products and services providers. Digital marketing has become more vital than ever for the IMEX industry in 2021. If you are an import-export business, make sure you are utilizing these tips to run your business, create and deliver DIY guides, and sell your products and services online.
Get in touch with our team of marketing experts to request a free consultation for your IMEX business. Send an email at hello@upreports.com to start a discussion!
Learn about our most popular digital marketing services:
Social media marketing services India
Reputation management services in India
Online marketing services in India