People google 'how to rank on Google Maps' because it isn't enough to simply mark your business on it. To generate product sales, store visits, and client inquiries, you need to be one of the top three for multiple relevant business keywords:
There are hundreds of blogs on 'how to rank higher on Google Maps' but most of them miss out on one SEO strategy or the other. That's why we decided to create this blog by using our years of experience in ranking businesses higher on Google Maps. 
Without further ado, here are 10 techniques and hacks to rank higher on Google Maps. 
First thing first, you got to mark your business on Google Maps to rank higher! If it already exists but you don't have access to it, claim it! 
If you have the listing as well as access, jump straight to the third point!  
Mark your business on Google Maps
It is impossible to rank higher on Google Maps if you haven't listed your business on it. Your business can still be on Google Maps even if you haven't listed it yourself. That's because customers have the feature to mark businesses as well. 
To check whether your business is on Google Maps or not, open the Google Maps app on your smartphone and search your business name. If it doesn't appear, then, you have to add your business. A simple Google search on your business name will also do!
To start the listing process, check out this resource from Google
Claim business listing
The next step after creating your business profile on Google Maps is to claim your business listing. If you will not claim your listing, it will be only able to provide less information. This process involves verification of your physical address through a postal code that will go into the listing.   
After claiming your business listing, you will be able to provide more information about your business. The more information on your Google maps listing, the higher your business will rank. 
Pretty simple, right? It is! 
Want to learn how much content costs? Check out content creation cost 2020-21 guide!
Add business info
After claiming your Google Maps business listing, it is important to add complete information about your business. Adding complete information about your business will give authority to your listing and rank it higher on Google Maps.
Add all details about your business to help the audience learn everything about your products and services. Add: 
Business address
Phone number
Working hours
Business description
Business category
Business labels
Business photos
Business name
Long story short, if you want to rank higher, you have to take your whole identity virtual. 
Add keywords smartly 
Adding relevant keywords to your Google Maps listing is really really important to reach the right audience. Start by thinking what might your customers Google to find you if they didn't know about your business name. For instance, a bakery in manhattan should tap below keywords to optimize its Google Maps listing:
Bakery in manhattan
Best bakery in manhattan
Bakers in manhattan
Cake suppliers in manhattan ks
Bakery in manhattan NY
Bakery in manhattan beach
Cake shop in manhattan
Use the keywords in business title and description as well to rank higher than others on Google Maps. Add relevant alt text while adding images to your posts. 
Add business photos & videos
Google Maps uses photos to help potential customers tell more about your business. It gives the option to add photos in a wide range of categories to render all the information required to make a purchase decision.  
Add photos of your: 
Company logo
Staff
Products
Office indoors
Office outdoors
At Work
Make sure you are not uploading blur photos. Upload high-quality photos to attract visitors and impress. This is one of the mantras to rank higher on Google Maps 
Add contact details
Adding contact details to your Google Maps listing helps customers connect with you quickly and schedule meetings. Below are the contact options that can be easily added to the Google Maps:
Phone number
Email address
Inquiry form link
If you have a toll-free number, consider adding the same to your Google Maps listing! This will help you to get more calls from your customers.
Get Google reviews
As mentioned above, Google loves what the customers love. So, it is super important to get positive reviews regularly to rank higher on Google Maps. Ask your happy customers to give you a review on Google Maps to grow your base of positive reviews.
Taking reviews from customers is a tough task in some businesses but if you will pitch it at the right time, they won't mind giving the same. A lot of businesses also give discount coupons to customers in exchange for reviews.
Keeping a REVIEW US ON GOOGLE banner on your store also helps!
Respond to google reviews
Once you start getting reviews, the next step is to reply to them. Reply to every single review because Google loves it when businesses are hyperactive and engaging with people through their channels. Whether the review is good or bad, send a carefully crafted reply!
Pro tip: To make your business more relevant for local searches, mention your location and main keyword in the reply. It will give an additional boost to your ranking on Google Maps!
Post updates 
You can post text,  photos, offers, and business updates on Google Maps just like on social media platforms. Doing the same regularly sends the signal to Google that you are active and deserve to be at the top position on Google listing. 
Here are a couple of Google Maps content ideas!
Post helpful content on your Google Maps to keep viewers engaged and coming back for more.
Add high-quality photos to your posts. They pop up in Google Images as well.
Post special offers and discounts on Google Maps during festivals and sales.
Share business updates to keep the customers updated about major happenings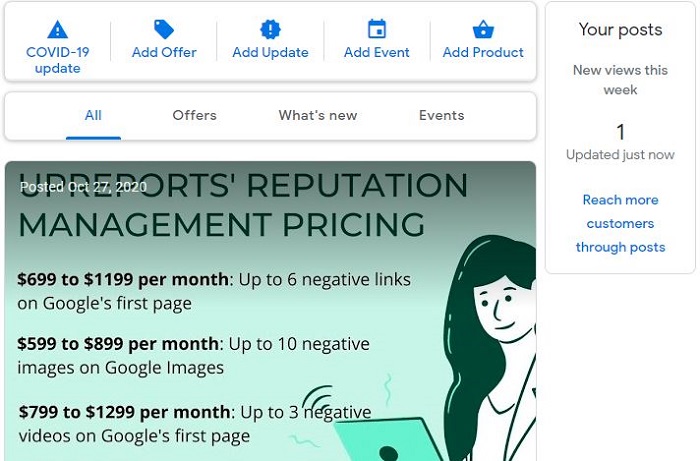 Share and embed!
Google Maps listing has huge sharing and integration value. It can be integrated on your website and also shared on social media. So, use these capabilities to the max to send out the signal that it is important for your business category and deserves a higher ranking. 
Rank higher on Google Maps
Ranking on Google is easy in some industries and difficult in few. That said, with the right Google Maps ranking strategy, it is completely possible to rank on the first page for multiple local business keywords. 
The above tips and techniques are helping thousands of businesses rank higher on Google Maps. If you don't have the time to handle it on your own and need help with the same, email us to start a conversation! 
Email us at hello@upreports.com to get a quick reply from top online marketers and growth experts.