Being a growing startup consultation and web services agency, Upreports Infotech is also on a lookout for national events and sessions that can introduce us to new ideas and opportunities. Recently, we became part of Google India's Chandigarh chapter of SMB Heroes Initiative.
The nation-wide programme aims to recognize entrepreneurs that tapped the power of internet to grow their business and explore new avenues. The event recognized the efforts of emerging offline and online entrepreneurs for promoting innovation and overcoming geographical challenges.

Google's SMB Heroes – Event Details and Launches
In addition to recognizing the efforts of 3 India based businesses that multiplied growth using technology, Team Google also gave a presentation showing how internet is empowering entrepreneurs across the world and how India is joining the party. Of course our team was live tweeting from the event!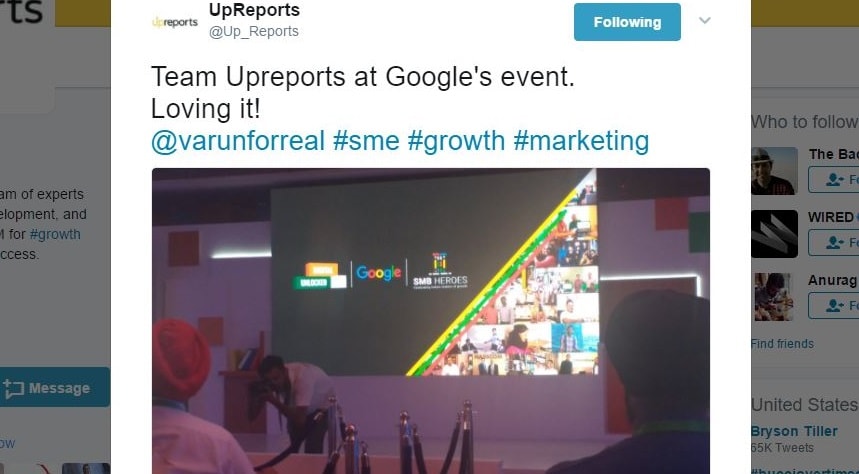 The event kicked off with breakfast which was followed by a presentation from the Google Team which shared data on how businesses who are active online grow at twice the speed. Also unveiled were new products from Google:
• Google Primer
• Google My Business Setup within 10 minutes
• Free website builder
• Much more
SMB Heroes, Chandigarh concluded with lunch and lots of learning.
Attendee interactions
Team Upreports interacted with the attendees and award winners to exchange growth ideas and strategies. Varun Sharma, Founder and Growth Manager, also interacted with Google's team members to gain more insights on upcoming products and we can deliver value to our customers through them.

Upreports is already creating awesome content to help businesses get more sales from Google and also contributing to top publishers to educate entrepreneurs on Online business launch and growth. Our initiative of Open Reports also aims to help entrepreneurs speed up growth. In case you too need help in terms of branding, leads, and growth, simply get in touch and let the conversation begin!