Google is at it again. Google March Algorithm Update 2023 is here and it's stated to be pretty big.
For those who don't know, Google regularly introduces new algorithm updates to display relevant search results and reward websites that have been doing good work. This month (March), Google rolled out a new algorithm update which is putting a massive impact on the SERPs.
Today, Upreports – a leading digital marketing agency in India – will share all the available details about the newest Google core algorithm update.
Let's start!
March Core Algorithm Update: Basics
On March 15, Google confirmed the rollout of a new core algorithm update named the March 2023 Core Algorithm update on Google Search Liaison. 
After Google Search Liaison, the news was reported by Search Engine Journal 
It started rolling out on 15 March 2023 and may take a couple of weeks to wrap up.
If initial signs are to be believed, multiple industries including fashion, technology, finance, and news have been impacted by the March Google update.
Google's March core update 2023 can take 2-3 weeks to completely roll out.
Highlights of Google March 2023 Core Update
Below are the major highlights of Google March 2023 core update:
The Google March 2023 core update started rolling out on 15 March and was completed on 28 March.
It took 13 days and 7 hours for this major core update to fully roll out.
This core update was fairly impactful compared to previous ones.
Google mentioned that businesses will see the biggest changes after another core update.
Google also mentioned that there could be nothing wrong with the web pages that have performed less well in the core update.
Biggest winners of March core update 2023
Like in every update, there were some websites that gained big. Below is the screenshot of the top winners of Google March 2023 core update: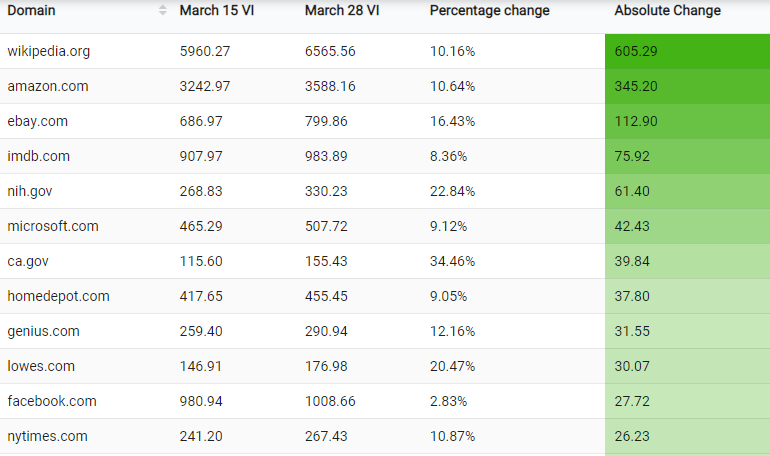 Biggest losers of Google core update (March)
Below is the screenshot of websites that have faced a decrease in visibility index score after Google March 2023 core update:
Industry-wise core update impact
While March core update was a broad one and impact every industry, there were signs that some categories were impacted more than others. Below is the screenshot of the top categories and industries impacted by the Google March 2023 core update:
Google March 2023 Core Update: Action Steps
It's possible that your website or clients have been impacted by the 2023 March Google Core update. Here's how you can prepare better and speed up recovery:
Track your organic traffic on Google Search Console and Google Analytics.
Compare the traffic of the preceding week with the previous one. This will quickly tell you if you have been impacted.
Benchmark the keywords ranking if you haven't been hit yet.
Identify the potential improvement areas in your website, content, and structure. 
Keep track of updates and news on March Algorithm Update.
If your website traffic and rankings have been affected after 15 December, there's a fair chance that your website came under the radar of this Google's Helpful content update or Google's December spam update.
Check out the above blogs to learn about them.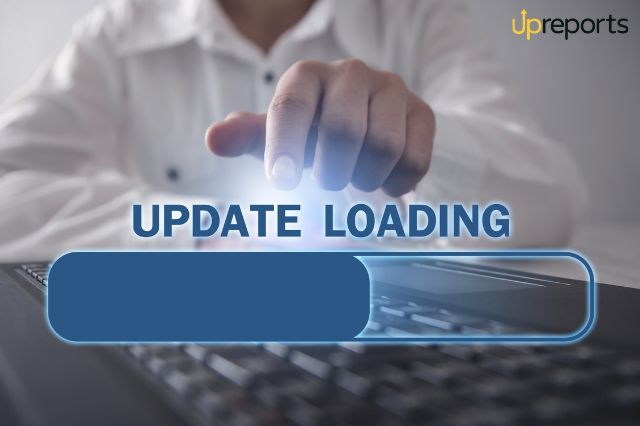 Recover from March Core Algorithm Update
We hope that the above blog helped you gain some basic understanding of Google's March 2023 Core Algorithm Update. Since the update has just started rolling, very less info is available about it. So, follow us on social media for more updates or use Google to discover new blogs and resources on it.
If your website has been impacted by the Google new update, then, it is best to partner with the leading SEO company in India for recovery.
Have queries to ask? Drop them in the comments to get a quick reply from our team of SEO experts.
Also, read our recent blog posts:
Learn everything about CHATGPT for SEO
A step-by-step guide to outsourcing SEO services
Major types of keywords in SEO
Ultimate A to Z marketing glossary
Our popular digital marketing services:
Social media marketing services in India
Online reputation management services in India