Most of us are obsessed with growth, especially small business owners and entrepreneurs. But it's easier said than accomplished. When it comes to taking your business or venture to the next level, what matters the most is having access to the right data and intelligence.
There is N number of tools that promise to provide online growth insights but we think SEMrush is a product that has outdone almost all. In this post, we will prove the intelligence tool for online marketing is a must-have for growth-obsessed small businesses and entrepreneurs, whether offline or online.
For simplicity's sake, SEMrush has divided its Analytics features into three sections namely Domain Analytics, Keyword Analytics, and Gap Analysis. We will discuss the most important reports and tools falling under these categories one by one.
So, here we go!
DOMAIN ANALYTICS  
The name is quite self-justifying but still, this is where you got to go when you want to mine SEMrush data for the domain, subdomain, and URL insights. Below is what you can accomplish with these reports and tools that fall under Domain Analytics:
Get domain overview
To run ace digital marketing campaigns, you need insights on organic search results, paid search results, backlinks, display advertising, and video advertising. And domain overview report from SEMrush will give you all that.
This feature is perfect to snoop on your biggest competitors to:
Craft your marketing strategy
Make tweaks in paid advertisement approach
Discovering new and rewarding marketing channels
Competitor insights share more or less the same but this feature is purely domain-focused.
SEMrush's Domain Overview Report will get this done! Try SEMrush No
Gather ranking insights
Gathering in-depth ranking insights can be a complicated affair but not if you have SEMrush by your side. Its vast databases will help you conduct organic research that will tell:
How many keywords you are ranking for?
How much traffic you are getting from them?
Where your competitors are losing and you can gain?
These reports are perfect for business owners and entrepreneurs who have limited time to dedicate to SEO and want to undertake highly tailored activities
SEMrush's Organic Research Report will get this done!
Conduct backlink analysis  
Even though Google has shifted its narrative from backlinks, they are still important to rank websites for important business searches. SEMrush is helping offline and online businesses give a thorough glance into the backlink strategy and efforts of your competitors to one-up them.
SEMrush will show the backlinks and also tell how authoritative they are. Through backlink insights, you can add more firepower to your current backlink strategy.
SEMrush's Backlinks Report will get this done!
Discover competitor ad strategies
Ranking for keywords takes time and for those in hurry, ads are the most viable option. And what better way to create your ad strategy than looking at what your competitors are doing out there?
Whether your goal is to push traffic, leads, or sales through ads, SEMrush will help by giving you an inside look into the ad strategies of your competitors. This way, you will be better informed to jump on the ad bandwagon, and won't drain advertising spending.
SEMrush's Advertising Research tool will get this done!
Do product listing ad research
While the marketing goal of business owners dealing in products and services is to generate sales & leads, some online ventures generate revenue from ads. For such businesses run by dynamic entrepreneurs, SEMrush has a special tool that matches keywords you are ranking for, with companies that are running ads for them. 
The data shown in a chart shows advertiser domain, focus keywords, traffic, and also ad pricing. These insights can be used to pitch ad opportunities to potential buyers. Real value for entrepreneurs running ad-driven ventures.
SEMrush's PLA Research Report will get this done!
Get video ad insights
This tool is a must-have for entrepreneurs and advertisers who are counting big on video content. It helps businesses and marketers have a look at the data on YouTube in-stream video advertisements and channels.
Video Ad Insights – officially called Video Advertising Research – from SEMrush is a new feature and is being widely admired by advertisers, channel owners, and also ad networks.
SEMrush's Video Advertising Research Report will get this done!
Gather banner ad traffic insights
Let's suppose one of your rivals has invested heavily in native ads (banner, media, and text) and you want to know which ones are working best for him. This SEMrush tool will help you figure that out, and a lot more. This is perfect for small business owners who want to:
See banner ads traffic
Gather affiliate insights
See the geographical distribution of traffic
Banner ads traffic insights can help you re-position your overall marketing strategy.
SEMrush's Display Advertising Tool will get this done!
Tracking competitor's traffic
There is no better way to create an ace marketing strategy than looking into the traffic sources of your biggest competitors. This report will tell you exactly what's working for your rivals by showing:
Social traffic
Search Traffic
Referral traffic
More
Comparing your traffic data with your competitors will help you get more clarity on where you are missing out. And you can also go back in time to see the traffic data back to April 2016. Now, how cool is that if you are a small business owner or entrepreneur?
SEMrush's Traffic Analytics Tool will get this done!
Pro tip: Follow us on Slideshare for awesome visual content!
KEYWORD ANALYTICS
Whether you are running SEO or PPC campaigns for your business, correct keywords insights are the key to success. Below are the most important SEMrush tools that will help you accomplish the same and make sure that you nail it out there:
Keywords watching
Tracking keywords manually is a laborious task and can take hours. SEMrush simplifies this greatly by making the target as well as business keywords available within a couple of clicks. The powerful tool also empowers you to see improvements over a period of time so that you can make tweaks to your keyword strategy.
Even if you have outsourced your SEO and marketing work, having SEMrush will keep you informed at all times and make sure that you are not being taken for a ride.
SEMrush's Keyword Overview Tool will get this done!
Keyword magic tool
Anyone can come up with business keywords but not all of them are worth your time and effort. For some, it will take you years to rank. For others, you can rank easily, given the right strategies are deployed. SEMrush helps you undertake extensive research and unearth keywords on the basis of search volume.
With this amazing SEMrush tool, you can be sure that you are working on the right set of keywords, search phrases, and long tail keywords as per your niche, region, and marketing strategy.
SEMrush's Keyword Magic Tool will get this done!
GAP ANALYSIS
To zoom ahead of rivals, you got to know how far ahead they are. Tools under Gap Analysis help you make comparisons with rivals in terms of keywords and backlinks. Pretty simple but the source of super data.
Compare keyword wise
This tool helps businesses and webmasters in making quick keyword-based comparisons with multiple competitors in one go. Keywords can be filtered on the basis of Paid, Organic, and PLA type to get insights as per your marketing strategy.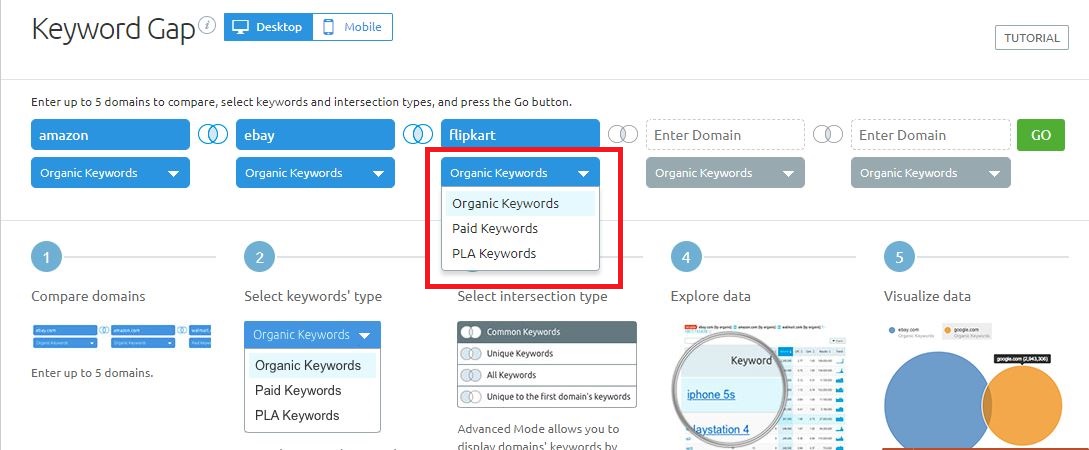 This tool also brings data visualization capabilities for a simpler understanding of complex comparative data.
SEMrush's Keyword Gap Tool will get this done!
Backlink gap
This tool is probably the best way for business owners and webmasters to discover how much work needs to be done in terms of backlinks to catch up with their biggest rivals. The backlink gap will let you compare 4 domains in terms of backlinks at the same time and generate decision-making data.
SEMrush's Backlink Gap Tool will get this done!
Now, above is what SEMrush can accomplish in general. The intelligence suite has also some unique tools for projects (your business website) that you want to work on continuously. And now is the time to elaborate on them because these matter a ton for growth-obsessed small businesses and entrepreneurs.
Project-focused SEMrush tools
Social media tool – This interesting tool will help you track social media performance and mileage on all your focus channels by showing traffic and growth data in one place.
Position tracking – Search engine ranking matters a lot for offline and online business owners. That's why SEMrush tracks the same for them and shows growth numbers in an easily digestible manner.
SEO ideas – Search engine optimization is a crucial aspect of SEMrush and hence it created a dedicated tool to bring optimization ideas for webmasters and entrepreneurs.
Brand monitoring – Monitoring a brand online can be a challenging task but not if you are using SEMrush. It packs a brand monitoring tool that will save you hours of Google searches spent on branding track.
Backlink audit – Backlinks are the best things that can happen to a business active online but sometimes they can be damaging as well. This tool from SEMrush helps in tracking backlinks and eliminating toxic ones.
Link building – Link building can be a real pain for business owners, and that's why SEMrush has tried to simplify the task by creating a dedicated tool for it. We assure you link building will seem simpler with this!
PPC keyword tool – For offline and online businesses that rely on PPC for traffic and business, SEMrush came up with this keyword tool. With this, creating campaigns and ad groups is easy as pie.
Ads builder – Ads that get relevant clicks are way more than keywords. To help marketers come up with effective ads, SEMrush provides this tool that facilitates competitor ad analysis and ads management.  
Organic traffic insights – We love organic traffic and to keep it growing, we need to be aware of its behavior. This tool gives a quick look into the organic traffic growth and fluctuations.  
Content tool – This content analysis tool will tell you whether your content passes the common quality matrices or not. It will also help you analyze competitors' content and undertake improvements.
Site audit – Tracking website health is really easy with this SEMrush tool. It will notify you of issues hindering site performance and keep you updated with threats like broken links, ill-framed Meta, crawling issues, badly optimized images, and similar site issues. Of course, it's very popular amongst webmasters.
As we mentioned time and again, there are many data intelligence and analytics tools available in the market but no one is growing and gaining acceptance as fast as SEMrush. Currently, SEMrush has over 128,000,000+ domains and 120,000,000+ keywords in its 29 databases.
Long story short, if you are a small business owner and digital entrepreneur with growth on your mind, then, SEMrush should be by your side.
Period.
P.S.: Trying to build your brand name online? Check out 100 branding ideas and hacks. 
Learn about our most popular digital marketing services:
Social media marketing services in India
Reputation management services in India
Online marketing services in India