According to Optimonster, 63.57% of businesses and marketers have gained customers specifically via blogging. No wonder questions like 'where can I hire the best blog writing services  are widely searched. 
Blog content writing is one of the easiest ways to promote your business online. Sadly, a lot of businesses – especially those that are new to the online world – don't know why they should hire it.
If you are a business owner planning to invest in blog writing, we highly recommend reading this post! Today, Upreports – leading digital marketing agency of India – will tell you everything about blog content writing services for your business. 
Let's get familiar with the basics of business blogging first! 
What's blog writing?
Blogging is an inbound marketing tactic that helps build search authority, attract new traffic, engage customers, create awareness, and build following. For those who don't know, a blog is simply a virtual piece of information rich in text and media that helps educate, promote, and inspire.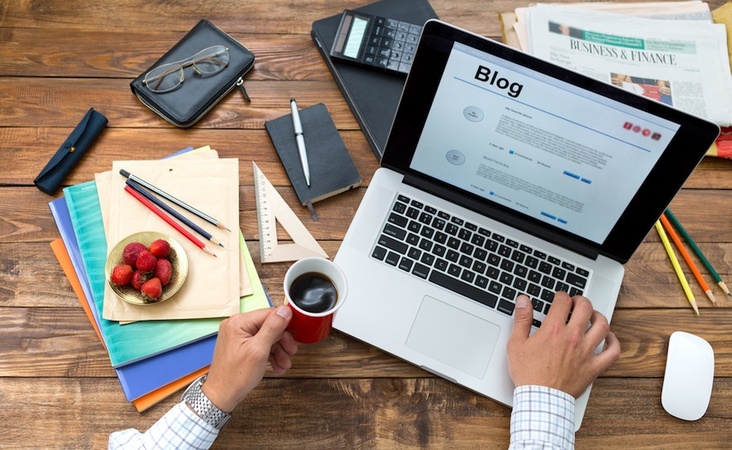 How is SEO blogging different from regular blogging? 
While looking for the best blog writing services, this is a major question that needs to be answered. We all know millions of us use blogging as a hobby to talk about things we love and care about. SEO blogging however is different. 
SEO blog writing services differ from regular blogging in following ways: 
SEO blog writing is focused on keywords while regular blogging is not.
SEO blog writing is undertaken for the purpose of generating business relevant traffic.
Research precedes SEO blog writing. Regular blogging is usually comes from what you already know
SEO blog writing is primarily focused on search engine domination.
If regular blogging is chalk, then, business blogging is cheese. That's because it is a marketing channel (identical to social media, email marketing, etc) that assists business growth. 
Blog writing services pricing 2021
Blog content has huge demand since it plays a crucial role in traffic generation. It is also perhaps the most skewed in terms of cost. Here are the types of blogs that are majorly sought by businesses and enterprises:
Listicles
Website blogs
How-to blogs
Thought leadership blogs
Short blogs
While a major chunk of bloggers and content writers charge per word fee, highly experienced writers charge per piece. Blog writing cost in the US & UK lies between $200 to $750 for a blog around 1000 words. Per word charge is around $0.30 to $0.90.
In countries like India and the Philippines, the price of blog content creation lies between $100 and $300 for a blog with 1000 words. The per-word cost charged by experienced writers is $0.10 to $0.50
Check out content creation cost of other digital mediums in 2021
Benefits of blog content writing services 
Here are powerful benefits of writing blogs for your business website: 
Boost to SEO 
All search engines say Google, Bing, Yahoo! Search, usually gets wooed by fresh, relevant content. Blog writing is one of the clear-cut techniques for businesses to have an affair with SEO. When you are posting articles at every turn, you are perpetually providing search engines with fresh content to index. 
Using business blogging, you can give rise to several opportunities by plugging in important SEO keywords to boost your visibility on search result pages. Additional benefit? You will be endowed with backlinks as other websites start liking and linking your blogs.
Reach target audience 
Target audience represents people who are your potential customers. Writing blogs will help you grab the attention of your target audience and introduce them to your products and services. 
Unlike contact or landing web pages that exert a pull only to those visitors who are ready to buy your goods and services, blog writing will allow you to reach out to audiences who are at different stages of their buyer's journey and convert them into faithful consumers. 
Understand your customers with the buyer journey mapping.
Increase sales 
Here is one of the most important benefits of blog writing for business. As you will be targeting specific audiences, you will be naturally seeing better digital returns. 
Writing educational and informative blogs will give your business a strong chance to reach your customers and answer their questions. This directly improves conversions.
Reinforce your brand
Ask top blog writing service providers of India and all of them will tell you that blog content writing services help in brand building. Consistent blogging efforts help build a strong connection with the audience and the same pays off in the long run. 
Once your consumers begin following your business, you will automatically improve brand recall. In a few well-chosen words, blog writing can help you reinforce your brand! 
Build relationships 
A wise person once said, "you can't build a relationship on promises. You build it with love, determination, and trust." Blog writing is all about these three words. It allows your business to become an authority and thought leader. 
Your business will build trust with customers and create valuable links for upcoming business opportunities. With all these trustworthy relationships, you can also create a community from ground zero. 

By now, we bet you are no stranger to: 
Meaning of blog writing
Costing on blog content writing
Difference between personal and business blogging
Benefits of blog writing for business
Writing blogs is not a walk in the park. Only the best and SEO ready blog content writing efforts help make the right impact. Upreports helps businesses and entrepreneurs constantly churn out premium content to increase website traffic & engagement on social media, search engines, blogs, and digital communities.
Here's why hundreds of businesses across the globe choose us for blog content writing services: 
Why Upreports for blog writing services? 
Here are the top reasons to hire the best blog content writing services for your business: 
Consistently blogging 
Planning, writing, and publishing top quality blogs on a consistent basis is challenging. Our blog content writing services help businesses keep a strict blogging and content creation schedule to hit monthly content goals. 
SEO ready 
Blogs don't rank on Google on their own. They need to be meticulously planned and written to achieve the same. Our SEO blog writing services help brands write SEO-ready blogs after comprehensive keyword research.
Business relevant 
Every blog writing effort made by our team of writers is decided with your business in mind. This is the reason why our blog content writing services also help our clients generate sales and leads in the long run.  
Learn about our content creation and marketing services as well.
More time 
Business owners and teams have to manage hundreds of tasks on a weekly basis to make sure that their business keeps growing. If handled in-house, blog writing takes a lot of time. Opting for our blog content writing services gives you more time to spend on critical business aspects.  
Perfection guaranteed 
Grammar, punctuation, and language errors appear when blogs are written in haste. Every blog written by our team goes through 2 comprehensive manual edits and one software proofreading to guarantee perfection. 
Final words 
Blogging is almost obligatory in online marketing. However, results will come only if you will invest in premium blog writing and marketing services. 
In the past 5 years, our team of content creators have written blogs for businesses active in industries as diverse as fashion, manufacturing, health, wellness, lighting, IT, and construction. 
Email us at hello@upreports.com to discuss your blogging goals. We will be more than happy to answer them for you! 
Check out our other popular services: 
SEO services in India to rank higher than competitors
Online marketing services in India to win the internet
Reputation management services in India to suppress negative links, images, and videos