Content creation & marketing became a 300 billion industry in 2019. Everyone agrees that content is the future of marketing but business owners & brands often have a hard time figuring out how much to pay for content.
While there is indeed huge disparity in content creation pricing & packages across the world, Upreports is here to give you some clarity. In this blog, we will share the cost insights related to content creation in some of the most popular formats and also talk about factors that come together to determine the cost.
Let's talk about the cost of video content creation first since it is the most popular medium right now!
Blog content cost 2020
Blog content has huge demand since it plays a crucial role in traffic generation. It is also perhaps the most skewed in terms of cost. Here are the types of blogs that are majorly sought by businesses and enterprises:
Listicles
Website blogs
How-to blogs
Thought leadership blogs
Short blogs
While a major chunk of bloggers and content writers charge per word fee, highly experienced writers charge per piece. Blog writing cost in the US & UK lies between $300 to $1500 for a blog around 1000 words. Per word charge is around $0.30 to $0.90.
In countries like India and Philippines, the price of blog content creation lies between $100 and $400 for a blog around 1000 words. The per-word cost charged by experienced writers is $0.10 to $0.50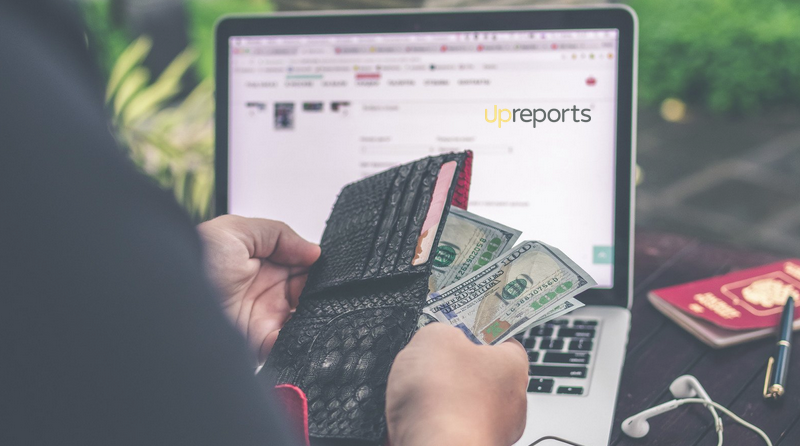 We generated thousands of new visitors to Eventswedo through blogging. Read blog marketing case study!
Website content creation pricing
Website content educates visitors about your offerings and hence is highly critical in nature. Not changed very often, businesses majorly hire experienced content creators for website content. Here are the types of website content frequented ordered from creators:
Web page content
Product descriptions
Landing page content
Punchlines and one-liners
CTA content
Web pages content creation cost majorly depends on the length and units of pages. The price of web page content creation in the US is $2000 to $6000 for 5 to 7 pages including all edits. In India, the cost of web page content creation is $500 to $2000 for 5 pages.
Social media content pricing 2020
There are approximately 3.80 billion users of social media platforms in the world. That's why social media is quickly becoming the first choice for marketers to promote businesses. Here are the types of social content widely outsourced to content creators:
Instagram updates
Facebook updates
LinkedIn updates
Twitter updates
Pinterest updates
Monthly cost of social media content creation services in the USA & UK lies between $1000 and $12000 for 4 to 7 social media platforms. In India, the average cost of social media content creation lies between $400 to $2000.
We won Instagram for Heels & Feels. Read social content creation case study
Digital media content pricing
Digital media content includes case studies, static graphics for social media, flyers, social media banners, etc. Most businesses invest in digital content to make their overall digital presence effective to the target audience.
Digital media costing (US & UK)
The cost of case studies and presentations in the USA & UK lies between $1000 to $5000.
The price of a static graphic for social media in the UK is $30 per graphic.
The flyers cost in the UK and US lies between $100 to $300.
Social media banners cost $60 to $130.
Digital media costing (India)
The cost of case studies and presentations in India is $500 to $2000.
The static graphics for social media cost in India is $20 per graphic.
The cost of flyers in India is $50 to $150
The price of social media banners as $30 to $80
Video content creation costing
Video content includes everything in video format that educates customers and promotes sales. Perfect video content can generate traffic, sales, and engagement. Here are the type of videos that are frequently requested:
Explainer videos
Youtube videos
Corporate videos
Interview videos
Product review videos
Animated videos
Behind the scene videos
Video content creation cost in the US & UK lies between $1200 to $50000. In developing countries like India, the price of video content is $500 to $10,000.
The cost of video content goes up and down according to the length of the video. Every content agency and freelancer charges accordingly a video content fee as per experience, video type, and quality.
Feel like you can create video content on your own? Check out our Youtube content creation guide!
Now, you know the estimated cost of content writing in 2020 but do you know which factors come together to determine the cost? Let's learn about factors that determine the cost of content writing across the world.
Content writing cost factors
Experience
Experience brings expertise and expertise comes at a price. Bigger the experience of the content creator in question, the higher the price will be. Hiring less experienced content creators will help you save some bucks but it will also bring down the quality.
Upreports always recommend hiring experienced professionals since they have a deep understanding of best practices in content creation.
Content size & time
Want to create a 3-minute corporate video or a blog of 2000 words? Be prepared to shell out more. Content creators charge according to the length of content in question and how many hours will go into creating it. If your content piece will require a lot of research time, the costing will go up.
A 60-90 second video will be perfect to attract & engage customers. When it comes to A blog, something around 1200 words will be great.
Content creator type
Content creators work alone, in-house, and in teams. Those who work alone are called freelancers. While it is quite difficult to find the right freelancer, businesses hire them because they charge less.
Content agencies (like us) are home to content creators who work together to help businesses with everything content. The best part of hiring agencies for content creation is that they bring professionalism to the table by charging a little extra in terms of cost.
Some businesses choose to hire an in-house content team but this is an expensive affair.
Content type
One of the major factors that determine the cost of content creation is which type of content you want. Here are the most popular content types:
Creative
Promotional
Informative
Creative content is the most expensive since it requires a lot of time in conceptualization, planning, and creation. Promotional content is comparatively cheaper unless it's in video format.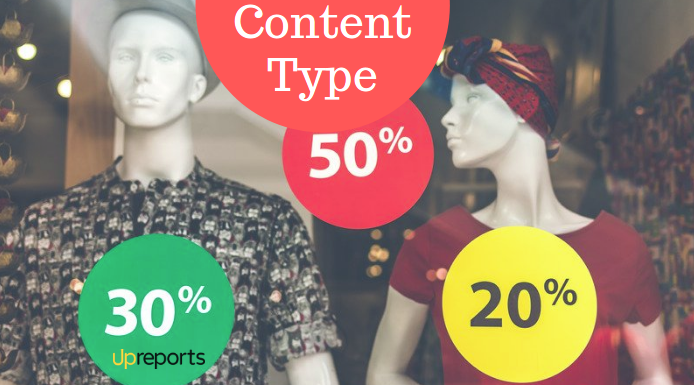 Talent location
If you hire a team or freelancer from developed countries like the USA and UK, then, be prepared to pay more in compensation. That's because the cost of living and overhead costs in such countries are higher. The same seeps into your pricing.
If you hire a content team from developing countries like India, they will charge you less in comparison. The location-based cost gap is usually around 40% and a major reason why businesses hire favor offshore content creation services.
Phew.
We are almost done with our content cost guide. Let's wrap up by sharing a tip to save big on content.
Saving with package content deal
Paying for every content item individually costs more in comparison to the package deal. A lot of content agencies offer businesses and entrepreneurs monthly content packages that help in bringing down the cost and streamlines the content creation process.
Here's the most popular content package from Upreports: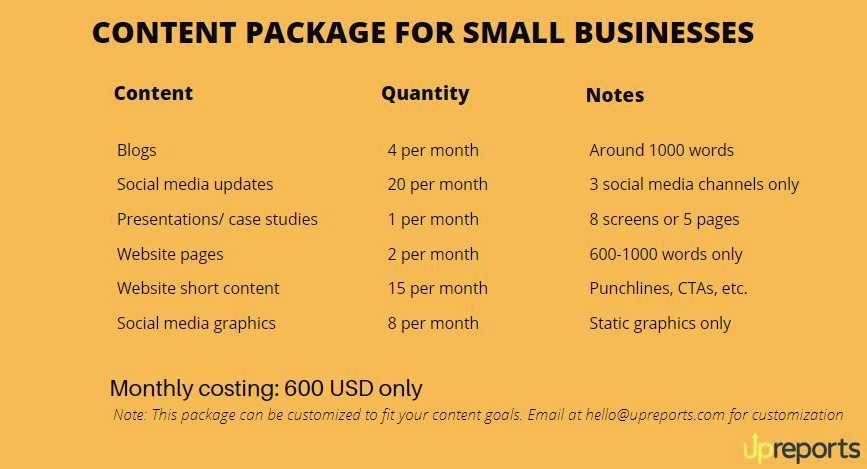 Team Upreports has been helping startups, entrepreneurs, and organizations with content for over a decade now. From website content to social media updates, case studies, videos, infographics, and blogs, we have the experience and expertise to deliver everything. Check out our complete range of content creation and marketing services. Email us at hello@upreports.com to discuss your content goals and request a custom package!