Your dose of weekly tech news is ready!
The past week was buzzing, and as always, we Upreports Infotech here with the hottest stories in the field of technology, social media, SEO, and growth!
Let's quickly go through the biggest stories of the past 2 weeks and learn what all happened in the digital world.
Let's go!
Another Google core update (dammit)
Yes, it's true and happening for the third time in 2020. The December Google Core update is rolling out as you read this blog. We already know what May Core update 2020 did and it might happen all over again. Here's the Twitter notification from Google: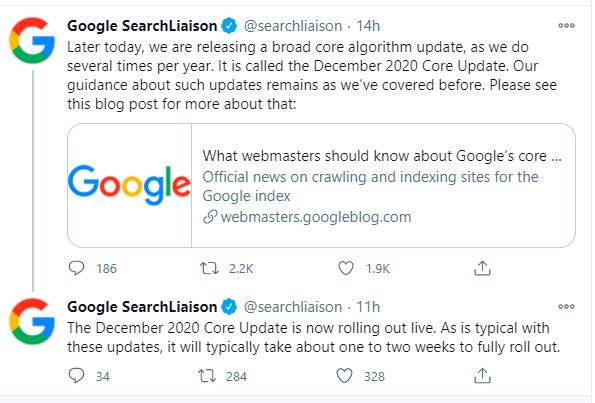 The December Core update will take a week or two to completely roll out. So, expect some fluctuations in your Analytics and Search Console. If you are hit, this is the first thing you should read.
If things started going downhill for you, email us at hello@upreports.com for a core update recovery plan.
Google FAQ provides Core Web Vitals Insights
Google recently published an FAQ that provides insights into how Core Web Vitals works, what it doesn't measure, and its value for ranking purposes. The goal for Core Web Vitals and Page Experience is to deliver a shared metric for all sites in order to improve user experience across the web.
Below are the three metrics that will come into play:
Largest Contentful Paint
First Input Delay
Cumulative Layout Shift
Answer all your questions on the new Google ranking parameters in this Google update
Black Friday online sales surge 22%
If Adobe is to be believed, Black Friday took on even more meaning for brands and advertisers in 2020. COVID-19 had kept many people from going out excessively, which sellers knew would increase online buying demand. And it did by 22%.
According to Adobe, online shopping witnessed a massive jump in comparison to 2019. Cyber Monday on the other hand registered digital sales worth 10.8 billion, up by 155 in comparison to the previous year.
Google Maps rolls out 4 new features
Google Maps rolled out 4 new features to improve the user experience of searchers. These updates will also help businesses that use Google Maps to reach more potential customers.
Below are the 4 updates that Google has made in Maps:
Messaging from Maps and Search
Updated performance insights
Community feed
Street view users contributions
Want to rank higher on Google Maps? Read our guide on how to rank higher on Google Maps
Twitter strengthens two-factor authentication
Twitter has been seen beefing up its account security options with the expansion of its support for physical security keys to mobile devices. This feature will enable anyone to use physical security keys to log in to their Twitter account using smartphones.
Account security came into Twitter's consideration back in July when several high-profile user accounts were hacked and used to promote a crypto scam. Here's the official Twitter announcement:
The new two-factor authentication option is available on both Android and iOS platforms. Download the update from Playstore and App Store to take advantage of Twitter's new hardware login verification method.
Don't overpay to fix your online reputation. Learn about reputation management pricing of 2021!
Email at hello@upreports.com to discuss your content, SEO, social media, and growth requirements.
Do you know that we are building the coolest local NGO discovery website for India? Yes, we are! Check out Helplocal India over here.
Our tiny local news experiment on a sleepy Indian town on the other hand is called Pathankot Today
Learn about our most popular digital marketing services:
Social media marketing services

Reputation management services